Post by uptowndragon on Nov 22, 2012 15:12:16 GMT 7
Penny Tai Wins Big At PWH Music Award @ Arena Of Stars, Genting Highlands (14/11/12)MORE ACCOLADES FOR PENNY TAI AS SHE WINS BIG AT PWH MUSIC AWARDSNews Release & Photo:
Wonderland+
Edited By:
Dragon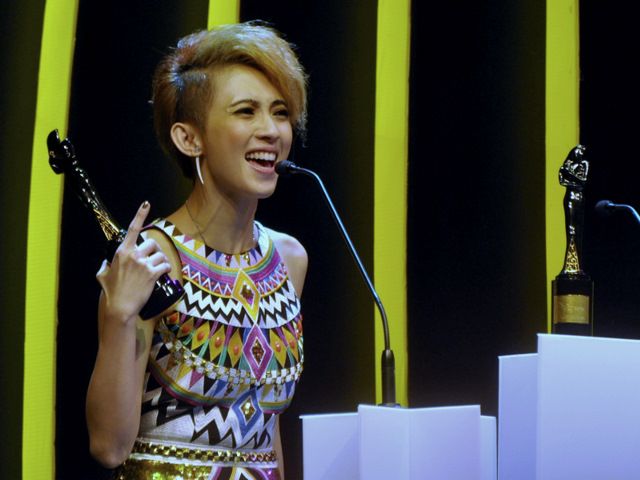 Taiwan based Malaysian Chinese singer songwriter Penny Tai's music was further recognized at the highly regarded PWH Music Awards which was held at the Arena of Stars in Genting Highlands on 14th November, 2012. Hailing from Johore, the petite artiste who has 11 albums to her name, won herself a total of 7 awards, which included awards for Local Top 10 Original Song, International Top 10 Original Song and Best Local Original Composition! She also won the Media Choice Award for her continuous work in the music industry. The Media Choice Award is a prestigious award which is awarded by local Chinese language media agencies. With this much sought after award, Penny has created a new record as the first singer to win it twice in a row. Among the many celebrities who attended the event were Michael Wong, Jess Lee, Manhand, Ken Lau and Will Ng.
"It is a great honour to receive the Media Choice Award as is a symbol of recognition for my work of music and other areas related to it. My deep love, burning passion and enthusiasm for music work always motivates me and keeps me moving forward!" said Penny in an emotional thank you speech. Penny who started writing songs from the age of seventeen, surprised many in the audience on the night by announcing that she will not be contesting in this competition any more after her mother told her that she should give others a chance. "It's not a matter of giving them a chance to win; instead I have faith in them to win more than what I have won over the previous years!"
The bi-annual PWH Music Awards is a prestigious event organized by the Entertainment Journalist Association, also known as Persatuan Wartawan Hiburan Wilayah Persekutuan (PWHWP). The association is an established non-government association with the objective to recognise and award local Chinese artistes for their accomplishments, and to improve the quality of songs in the country. The association was formed in 1987 and consists of respected entertainment journalists from local Chinese dailies and magazines. Its inaugural awards presentation kicked off two years ago and successfully gained wide recognition by the domestic and overseas music industry for its transparency and excellent reputation.