Post by uptowndragon on Oct 26, 2012 19:44:16 GMT 7
One More Day To Big Bang Live In Malaysia 2012 @ Stadium Negara, kuala Lumpur (26/10/12)18K FANS EXPECTED TO FILL STADIUM MERDEKA TO ITS BRIM FOR BB'S CONCERTStory & Photos:
Dragon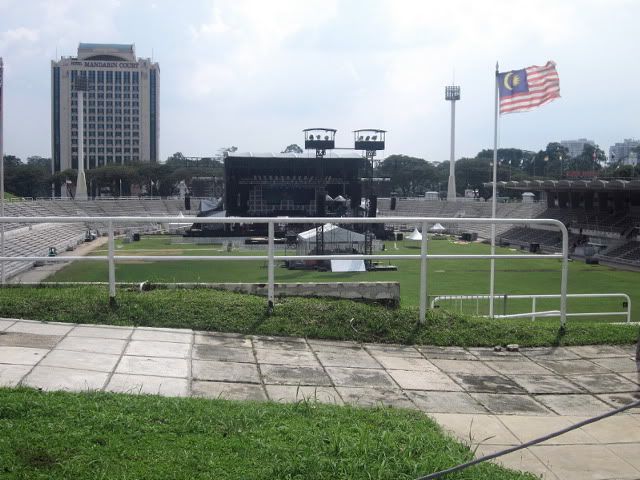 Banging stage awaits fans at Big Bangs' concert tomorrow.
18,000 fans are expected to fill up the open air Stadium Merdeka tomorrow night to catch iconic K-Pop all boy group Big Bang live in concert for the very first time in Malaysia. Tickets for the much awaited concert which is organised by concert promoters Running Into The Sun and presented by Samsung, had already been snapped up right from the very first day of the official ticket launch a few months back where more than 17,000 tickets were sold in a single day. A limited number of tickets were released later after some re-organisation of the concert layout, to accommodate the requests of many fans who missed out on getting tickets earlier.
Visiting the venue this afternoon, Rentak Sejuta found excited fans already starting to queue up in order to get the best spots inside, once gates open tomorrow. Some had already camped out from yesterday, while others dropped by to survey the place. There should be a large number of fans turning up later tonight to find their spot in the queue as well, in order to be the quickest in to catch their idols in action tomorrow.
Final touches were being applied today around the stadium perimeter, while last minute preparations were being made inside, on the mammoth stage that has been erected at one end of the stadium. Looks like its going to be one amazing show. Even the unlicensed food operators have already staked out their spots, with certain popular steamboat trucks already booking their spots outside the stadium, by parking their vehicles there at least half a month earlier. Many peddlers will turn up tonight as well in anticipation of the crowds that are expected to arrive late tonight or early tomorrow morning.
This must be the tallest stage ever for a concert in Malaysia.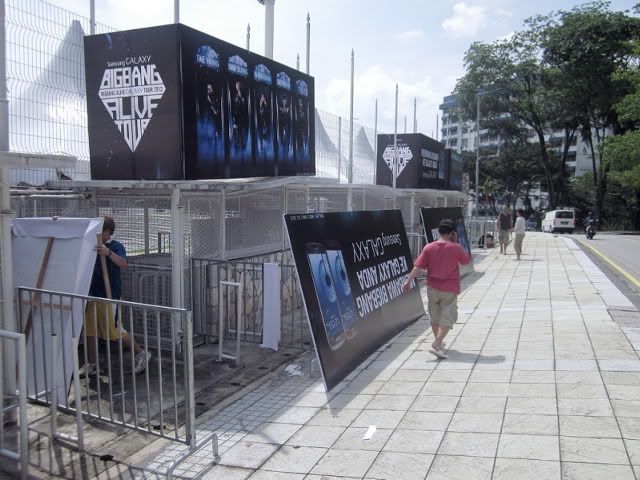 Samsung's hoarding and boards going up.
The first batch of fans were already there from yesterday and early today.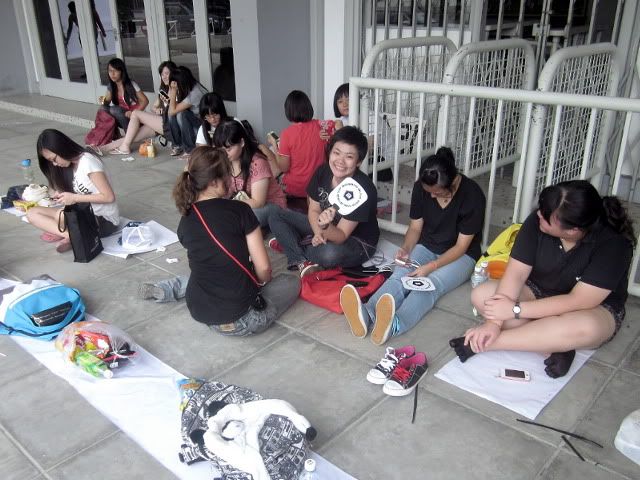 The long wait is no bother for Big Bang fans.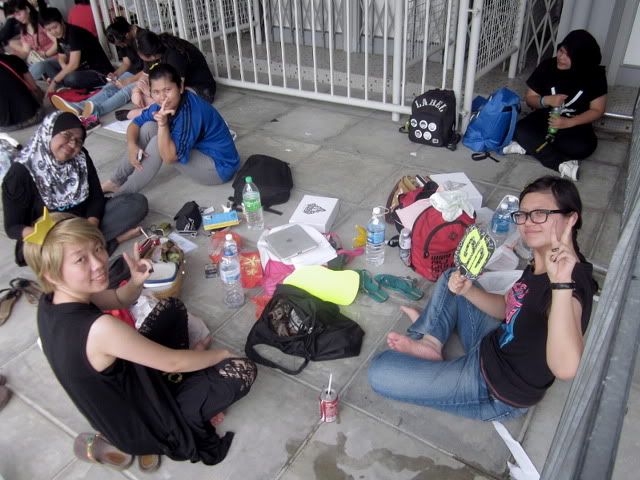 Among the first to arrive. They are pretty assured that BB will be able to see them.
This is one serious K-Pop fan. Not only has she got BB tix, she has already bought 2NE1 tix as well.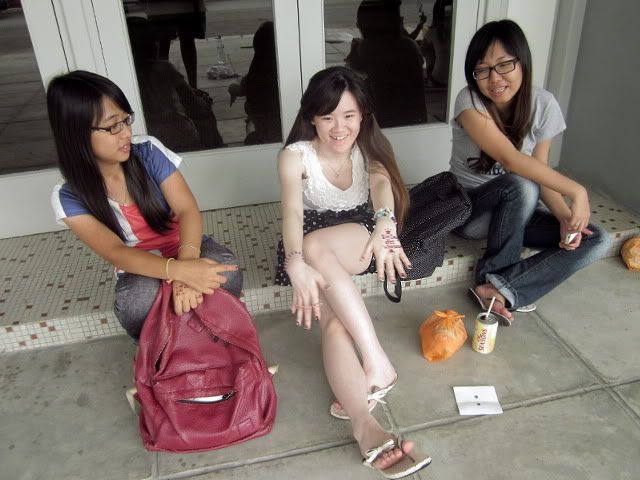 "Hey, check out our handiwork!!!"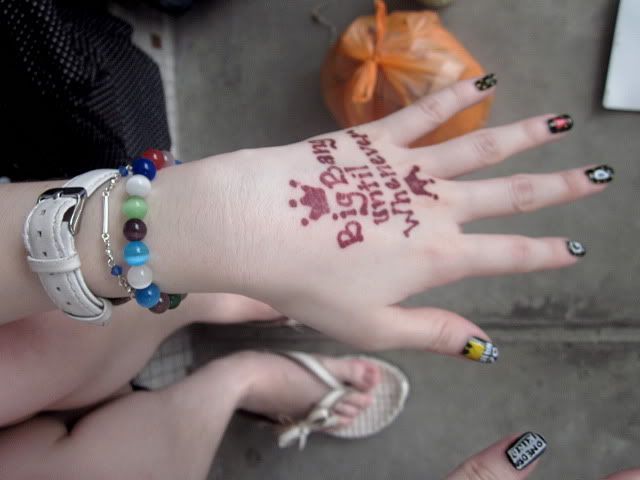 Guess there is nothing else to do while waiting.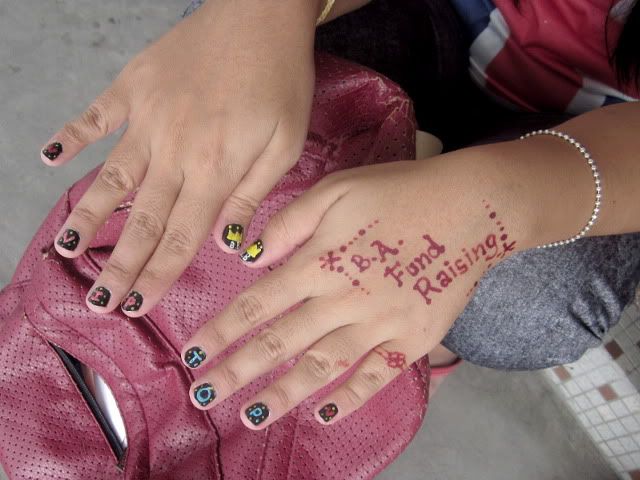 We do love the creative artwork.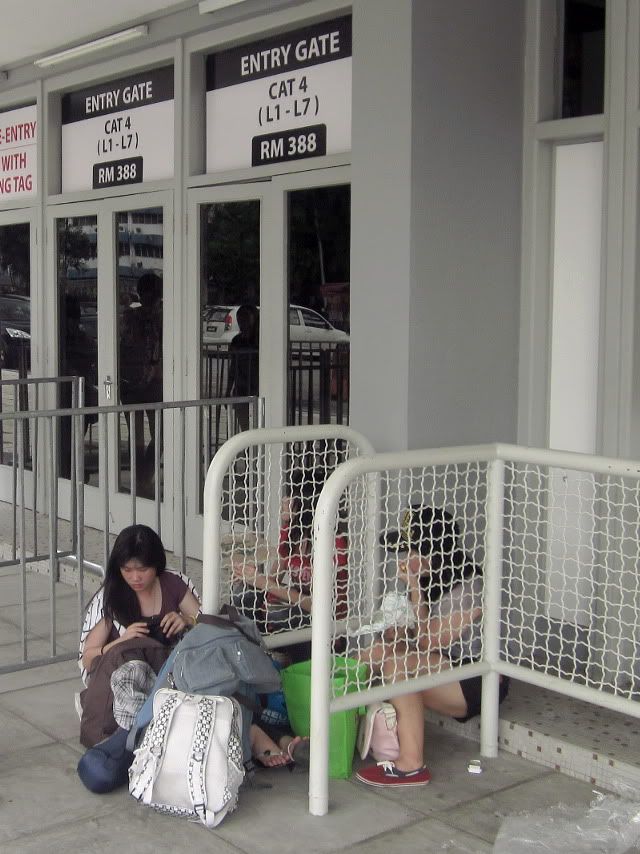 Even the RM388 ticket holders were queing up early.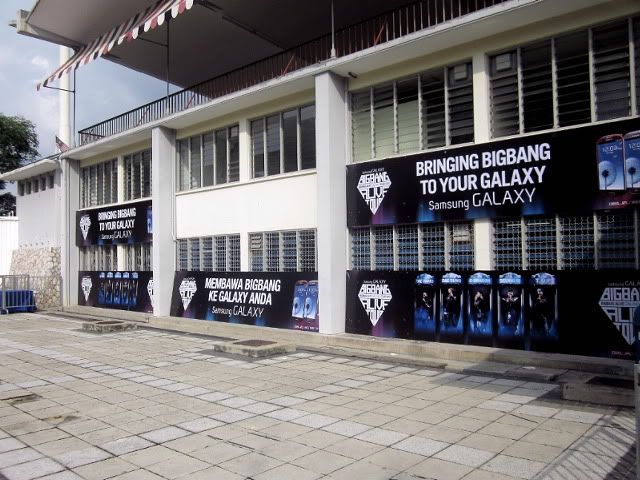 Does this mean we are allowed to bring our Samsung Galaxy Tabs and Notes in?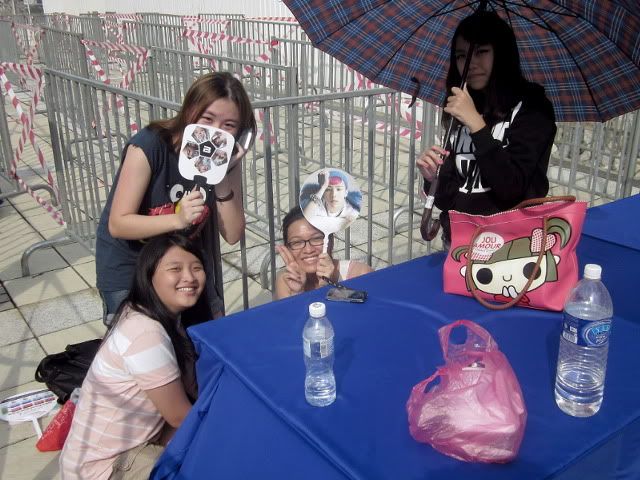 We are not quite sure why the RM191 holders were lining up, since they are not going to be right up front regardless.
More fans were arriving, backpack and all, to spend the night there.