Post by idolfan on Jan 17, 2012 11:23:05 GMT 7
Wishes do come true!
During the press conference held earlier, MY FM DJ/Producer/Actor, Jack Lim revealed that our Prime Minister may attend the movie's gala premiere screening at Pavilion Kuala Lumpur on 14 January 2012 and true enough, YAB Dato' Seri Najib Tun Razak attended the movie's gala premiere together with wife, Datin Paduka Seri Rosmah Mansor. It was indeed a grand affair, the VIPs and guests arrived at the venue and walked on the LED walkway, with their names flashed on the LED, to the stage amidst cheers and applauses from the large crowd of people who had gathered there since 6pm.
The LED walkway that cost RM100,000 was made to full use as about 100 local artistes graced the red carpet event by walking on the walkway to the stage, before having a short interview on stage with Jeff Chin, MY FM breakfast show host ( who also had a small role in this movie). Jack Lim, his wife, Veronica and son, Lucas, also took their walk of fame on the LED walkway after YAB Dato's Seri Tun Najib and Datin Paduka Seri Rosmah Mansor, and followed by the rest of the cast like Wan Wai Fun, Royce Tan, Gan Mei Yan, Chen Keat Yoke, Bernard Hiew and Gan Jiang Han.
Jack Lim together with the cast has worked hard and has embarked on a nationwide 100-location road tour to promote the movie, hoping to achieve box office success when the movie opens in local cinemas nationwide on 19 Jan 2012. Jack revealed earlier during an interview that he has high hopes for the movie to break the records set by his previous two films, "Tiger Woohoo" (RM 4 Mil) and "Great Day" (RM 6 Mil). On an ending note, Jack Lim spoke to the crowd "I know that we are competing with 4 big Lunar New Year films from Hong Kong and I hope that we will not lose badly to them".
Movie synopsis:
The story opens in the year 1975, on the eve of Lunar New Year and everyone in the village is busy preparing for prayers to receive the auspicious God of Prosperity. Comes midnight, people of various races impersonate the God of Prosperity and walked to each household to offer them mandarin oranges and lucky numbers in return for an "Ang Pao". Ah Beng's father (Gan Jiang Han), being poor, can only offer them coins instead. The real God of Prosperity came to visit Ah Beng's household and he was touched by the sincerity of Ah Beng's father, even though he was poor, he still offered whatever coins he had to him and wished him good luck and good health. He gave a toy God of Prosperity to Ah Beng's father and grants him 3 wishes.
Not-so-bright security guard Ah Beng (Jack Lim) works at an open car-park, is being bullied by a group of rich brats with luxury cars, over their parking fees. A mysterious guy comes in and helps Ah Beng. Grateful for his help, Ah Beng invites him into his life and things starts to change around him.
One day at work, Bobby (Bernard Hiew) is injured while filming and with the help of Ah Beng, Rain (Royce Tan) and the mysterious guy, Bobby is brought to the hospital where they see both Ah Lian (Gan Mei Yan) and Salted Fish Lian (Chen Keat Yoke). Salted Fish Lian was collecting her medicine from the pharmacy. Ah Beng and the gang secretly investigates Salted Fish Lian's condition and is shocked to find out that Salted Fish Lian is very sick.
Back home, Ah Beng and the gang, are thinking of ways to save Salted Fish Lian. They then saw an advertisement on TV for a Talent Search contest with a massive grand prize of cash. Rain, Bobby, Ah Beng and their new friend, quickly form a singing group to join the contest.
This movie is a good mixture of comedy, actions and drama. It brings laughters and at the same time has some touching moments coupled with some action packed scenes. The movie touched on the values of family and friendship and how they helped each other in times of trouble. The cast portrayed their characters very well and after watching it, I have high aspirations and hopes in our locally produced movies and I am sure that it will give other foreign movies a run for their money.
Go catch it at a cinema near you from 19 Jan 2012.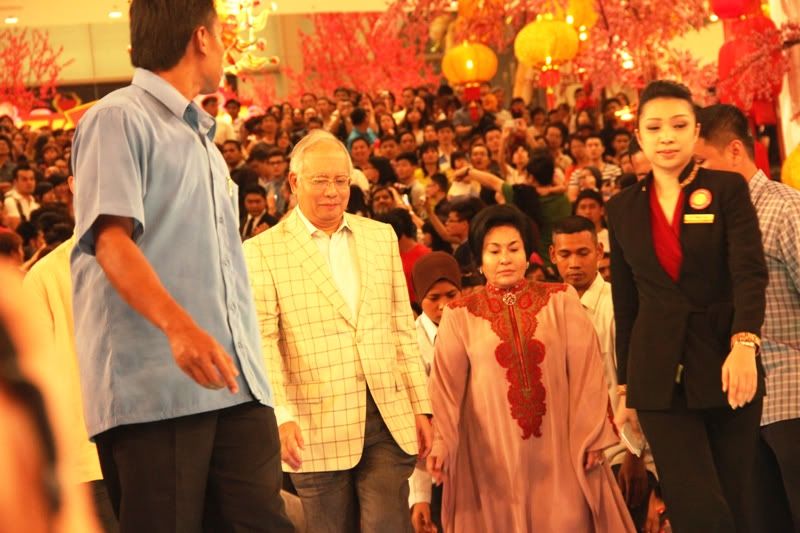 YAB Dato' Seri Najib Tun Razak and Datin Paduka Seri Rosmah Mansor making their way to the LED walkway
Jack Lim, his son, Lucas, and wife, Veronica, doing their walk of fame on the LED walkway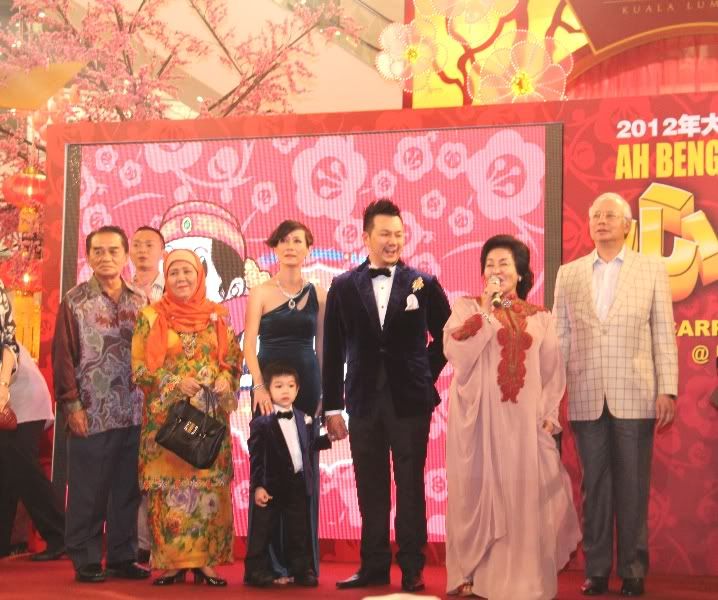 Datin Paduka Seri Rosmah Mansor giving her speech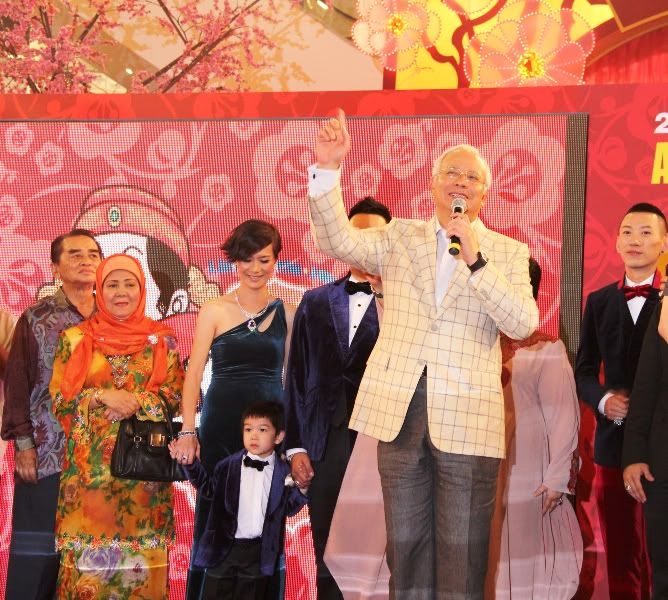 Our Prime Minister's turn to give his speech "As the Prime Minister of this country, I have to ensure that I can create a very condusive environment. I have to ensure there is peace in this country. I have to ensure there is stability in this country. I have to ensure that there is harmonious relationship in this country. I have to ensure good policies and good implementation in this country so that all Malaysians can fulfill their hopes and aspirations. That is my three wishes, if you like, as the Prime Minister, to create a country for all Malaysians. You can live your dreams and look forward to a better future. So let us enjoy the movie, Gong Xi Fa Cai and Happy New Year".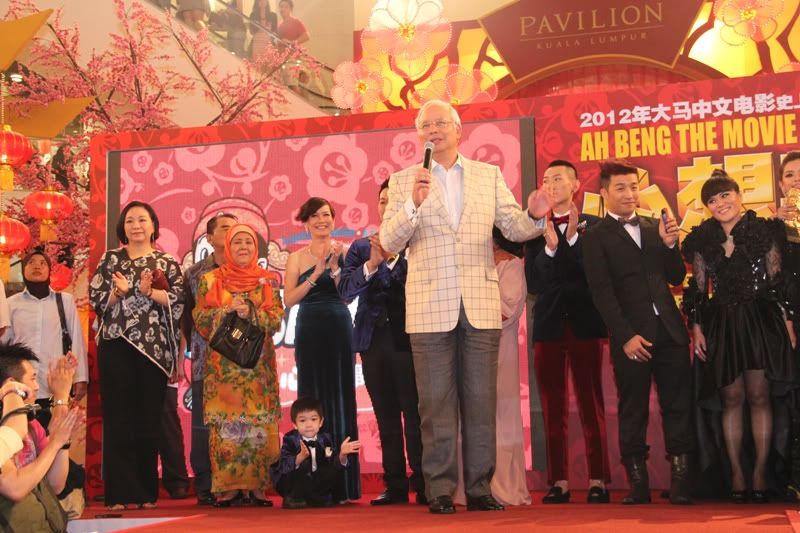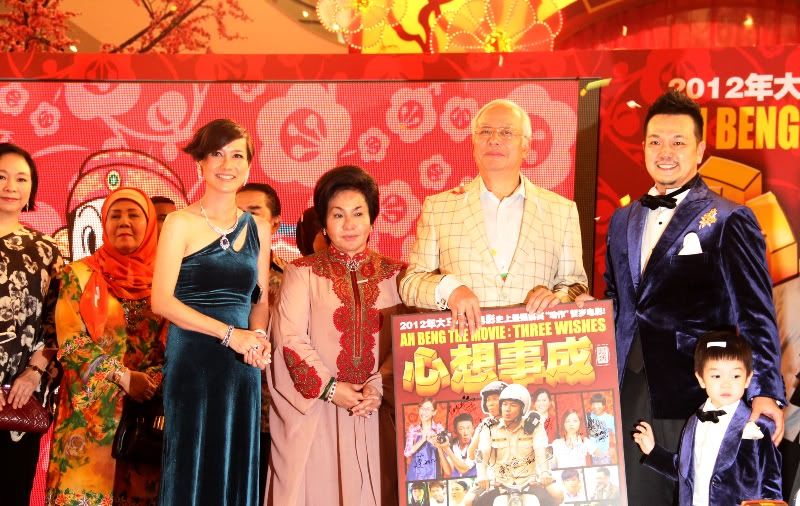 Group picture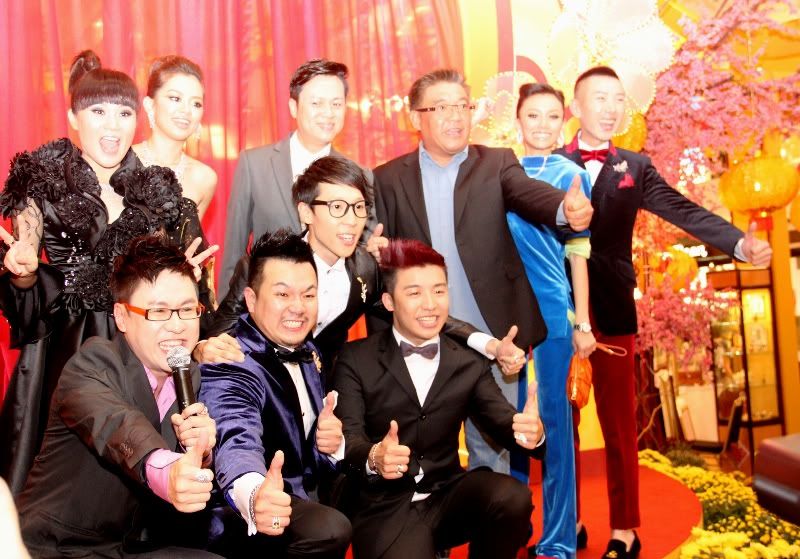 The talented bunch of DJs / hosts with the director, Silver (standing third from right), who has nothing but high praises for them.