Post by Von Soul Krazy on Jun 21, 2010 20:38:52 GMT 7
The End of Journey for SOUL KRAZY as the Top 7 in 8TV Showdown 2010...
Finally, it's a relief for SOUL KRAZY to have a full stop in Showdown. Elimination was what we had been waiting for since Live Show 5. But we were given a chance to stay for another week, for another greater challenge. SILAT, was what we had drawn from draw lots. We prayed for it, but we didn't know why. Maybe because we wanted to try the malay martial arts instead of chinese martial arts as most of the people think Chinese should be able to do the Chinese martial arts easily as we have already known the history and knowledge of it. But for silat, we didn't know a single thing. It's always great to learn something new.
We were grateful to have Ray from So You Think You Can Dance to teach us Silat. As he has much experience in SYTYCD, he had actually prepared a routine and choreography for us to be useful in our Silat and Hip Hop fusion! And we tried to search for more information in YouTube. There are few types of Silat such as Silat Gendeng, Silat Harimau, etc.
Accidents happened during our stage blocking. Becky fell down from top when she tried to climb on Yvonne's shoulders. Yvonne had her head greatly hit when Becky fell down. As we were barefoot, the percentage of getting hurt on the feet is very high. But although we had our knees and wrists hurt more than the feet. All the blue-blacks, sprained, old injuries, etc, had never been revealed to anyone. We cured the injuries ourselves, we fought against the pain ourselves. It's like, "Wow... These girls are really tough. They never got hurt." Or perhaps, "Alah... Kan diorang tak buat benda gempak, tak buat power moves. Mana la datang cedera?" Whatsoever.
Silat Lagenda is the most synchronized routine ever done in Showdown by SOUL KRAZY. Maybe it's because the movements are slow and simple. And basically we had put almost 70% of silat in our routine. And it's greatly performed with our silat costume on prepared by Stevensunny! And the batik was ready by Cynthia, she borrowed from her teacher.

We expected to battle with HMC Phlow but it was Floor Fever's "responsibility" to knock us out. We battled with peace, we battled with fun. Like what Maple Loo said, it wasn't as furious as it should be. Maybe we had got used to perform together, winning to us no longer meant anything, because we knew we'd lose. So, we just tried our best. No matter how good we tried, we knew, we somehow felt it in our heart, SOUL KRAZY would be going home that night.
Standing in the elimination round again, standing beside Borneo Soul Breakerz, both crews have own specialities and strength to remain on stage. The BSB boys quarreled behind the stage after the battle with GBC. Maybe they thought they were the ones going home. They were ready too. It was a surprise for us to hear our name to be announced but yet we did not feel sad or disappointed with the result, because we had expected it. Instead, we shouted for joy, we kept smiling with positive thinking. We had done this before last 2 weeks during rehearsal, how should I quit the stage, how should we act during the elimination, to get ourselves really ready for this hard time. We ran to the board holding the spraying can like a bunch of kids. As discussed, we wanted a smile on our name SK. We thought of spraying 5 crosses on it to represent 5 happy ladies but it'd be time consuming. Instead Becky sprayed a big cross with a smile below it. And the outcome was a XD .
A smile in the middle of the stage, to remind everyone including the audience, contestants, production crews, judges and invited guests to keep smiling. Elimination was supposed to be cruel, but we made it fun. It was supposed to end up in tears, especially for female, but we remained tough and happy until the end. We want Malaysians to remember, we made a legend in 8TV Showdown, we are still the happy-go-lucky ladies in Showdown who give laughters to everyone, right in front of everyone. Hope the rests of the crews who will be eliminated this week onwards to quit the stage with smiles too.

We are the five legendary ladies, first ever all-girls crew in 8TV Showdown.
[/size][/color]
However, Cynthia and Yvonne cried when we were back to the backstage. Tears of joy.

While Becky and Seven, tears rolling in their eyes. For me? Oppsss... Feeling nothing except loneliness. As we are no longer involved in Showdown activities, we are not meeting the Showdown family no more, no more training for currently, my life seems so peaceful. Too peaceful perhaps. 6 weeks being together with the other crews, so many friends to accompany in life, so many laughters together. And now life has become so quiet.
When Kuma asked, should the girls be given a handicap in this competition, something came across my mind that, NO, girls should not be given handicap. It's a fair and equal world we're staying in. We admit that we couldn't present blow-ups and crazy power moves to the judges and audience, which brought us to an end in Top 7. It's not because girls are softer, they cannot do those blow-ups, so we must be given a handicap. Girls can do it, but we haven't achieved it yet. It's really a good challenge for us to try all the stunts so that in future, we'll grow as a stronger and tougher team, equipped with tough stunts that will be beneficial in competitions.
However, dancing is all about fun, not the stunts, if anyone of you has received the information mistakenly. If only the stunts can give you the fun, how about those disabled people, old folks and young kids? They cannot dance? What they are doing is not dance? Since we knew we were too far away from doing more stunts to create more blow-ups, instead we stick to the basic of dancing, which is having fun. But I think having fun is not what judges and some Malaysians are looking for in Showdown.
Anyway, our journey had ended in Showdown, although we will be back every Wednesday to support the rests of the crew, especially FAMOUS CREW, who is our homie crew. And we'll also be back during Final on 14 July. We will look for another platform that is more suitable for us to continue our journey.
With our pretty make-up artist!

This is KJ from Borneo Soul Breakerz. I think he really loves SOUL KRAZY a lot. HAHA!
Collecting energy. X)
Hembus tenaga! HERK!!!
Tok Guru Becky! BAGINDA sangat power la! XD
During Press Conference after elimination. Still smiling so brightly.

Some of SOUL KRAZY's past videos in 8TV Showdown 2010. Missing videos are Live Show 2 : Fame by Naturi Naughton for Wild Card "My Life" and Live Show 4 : Reach Out, I'll Be There by Gloria Gaynor for Music "1970s".
Live Show 1 : Gimme Gimme Gimme by Beenie Man
www.youtube.com/watch?v=szbbwX7D7EI
Live Show 3 : Beat It by Michael Jackson for Artiste "Tribute To Michael Jackson"
www.youtube.com/watch?v=DM2e8EdTkiI&feature=related
Live Show 5 : Single Ladies by Beyonce for Dance Style "Waackin' and Krumping"
www.youtube.com/watch?v=MyTUAXmdOvI
Live Show 6 : Silat Lagenda for Wild Card "Martial Arts"
www.youtube.com/watch?v=d-ZPOEQj7wU
Fan Made video by Rain Bow!
www.youtube.com/watch?v=r9SFNNRFaFE
Smile is not enough. You should OPEN YOUR MOUTH, SHUT YOUR EYES, and LAUGH. Like this: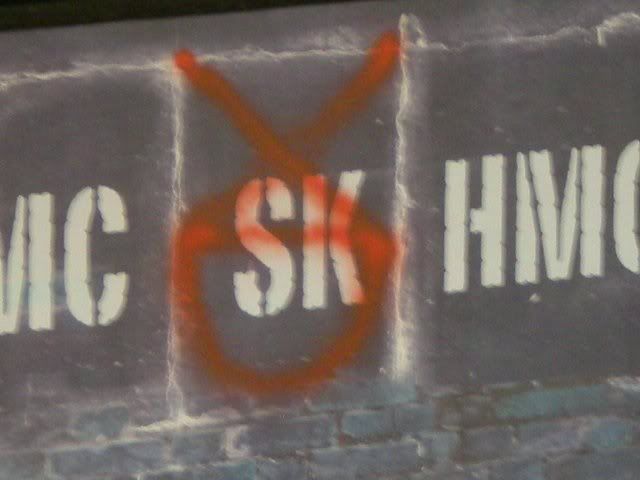 The krazy smile of SOUL KRAZY...
XD
[/color]
My last words before I end my writing in Rentak Sejuta for SOUL KRAZY:

Much love, respect and peace!
[/color]
And support FAMOUS CREW! Type SD10 (space) FMC and send to 33399! XD Feel free to add us in Facebook! You can find the details in another thread!
P/S: Can someone fix my profile to Top 7 instead of Top 9? Thanks!

[/color][/font]