Post by idolfan on Jul 2, 2013 9:27:38 GMT 7
Rainie Yang Love Voyage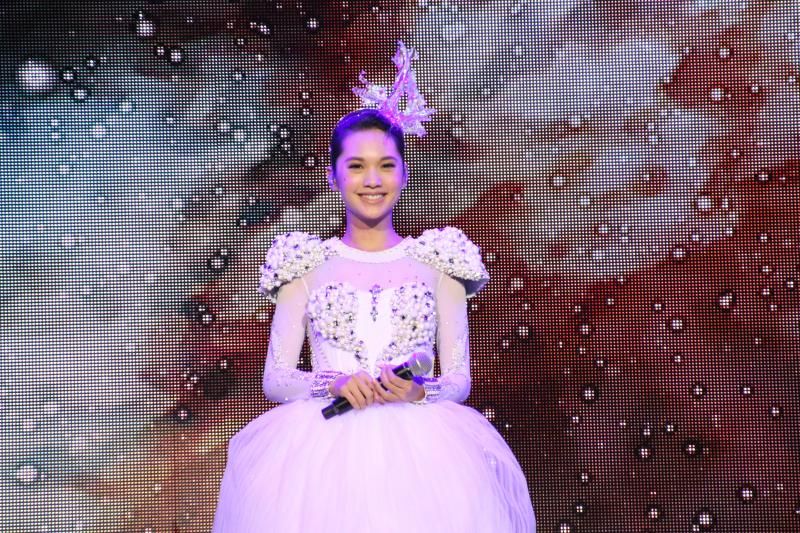 Award winning Taiwanese singer, actress and talk show host, Rainie Yang performed the Malaysian leg of her "Love Voyage" concert at The Arena of Stars in Genting recently and vowed the crowd with her performances and captivated them with two stunning feats. Rainie started her career in show business when she was just 16 years old as a member of the all female group called "4 in Love" in 2001 (the group disbanded in 2002). She told the audience that she came to Genting 13 years ago but hopefully she will not take another 13 years to come again. Rainie had very good rapport with the crowd, talking to them a lot about her feelings and thoughts. Her professional response and humour garnered much cheers from the audience. She said she loves to express her feelings through her songs and she even performed a very expressive free style dance to one of her numbers.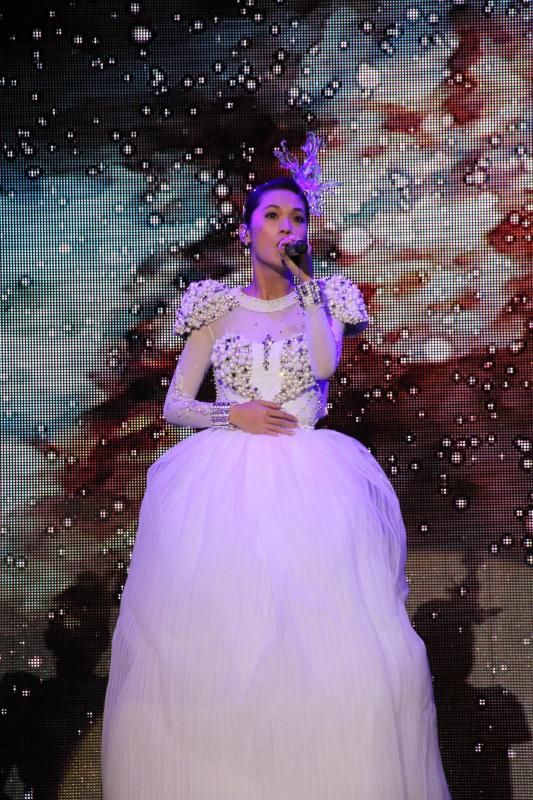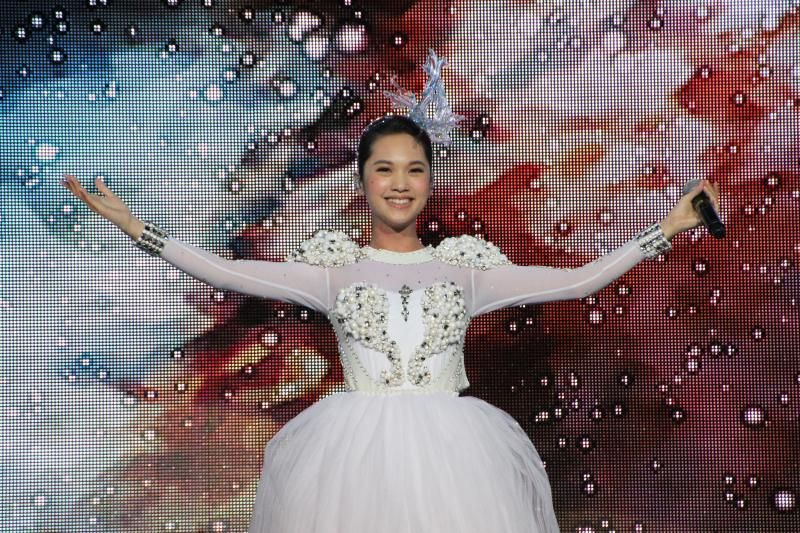 Rainie looked pretty and demure like a fairy tale princess with her flawless fair skin in a long white gown adorned with lace and pearls. She performed four songs before she greeted the crowd. The first feat she did was when she performed the emotional number "Take Me Away". Towards the end of the song, Rainie disappeared backstage and the next minute she emerged from the trap door, hanging upside down by cables tied to her ankles and sang the last few lines in that position complete with pyrotechnics. The meaning behind this feat was something to do with a line from the Taiwanese movie, "Jump Ashin!", how to prevent tears from flowing down by doing a head stand. This feat sure surprised the crowd and they cheered her on loudly.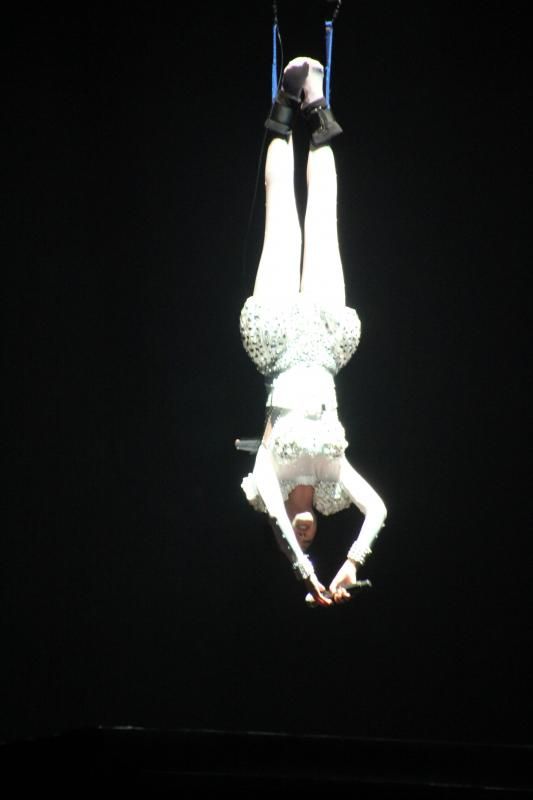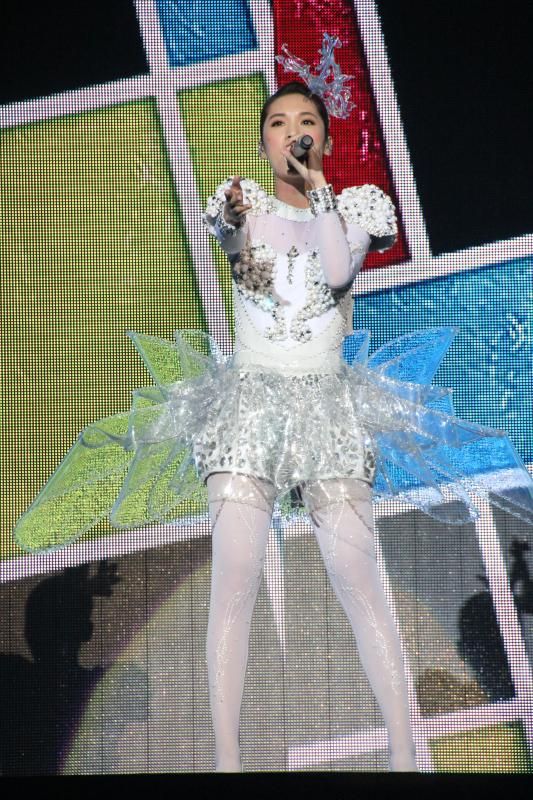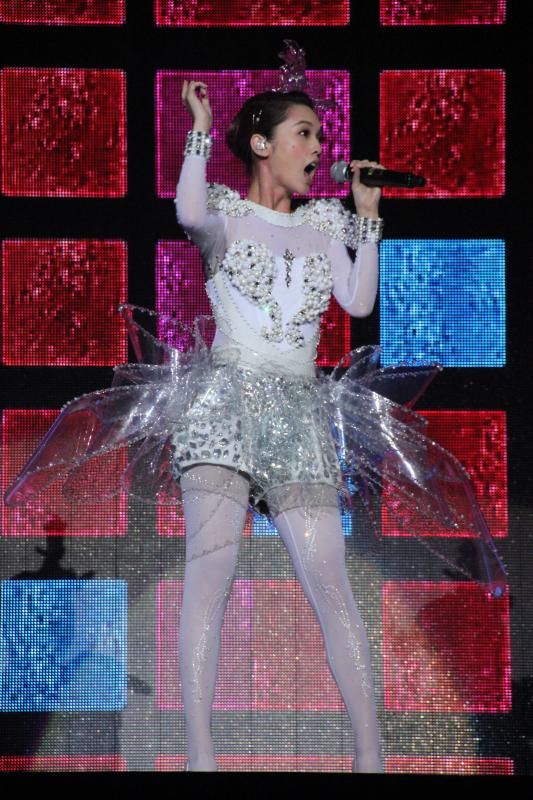 Rainie's guest performer for the night was none other than Jiro Wang, whom she have collaborated with in several TV series. Jiro was also a former member of the popular Taiwanese all male group, "Fahrenheit". Jiro performed "King Meets Queen" with Rainie and for his solo number, he sang the opening theme song, "Promise", from the romantic comedy TV drama "Fabulous Boys". Rainie was asking him to show off his "mermaid line" and he obliged by lifting his shirt and crowd screamed hysterically. Both of them were like very good friends chatting away and teasing each other on stage.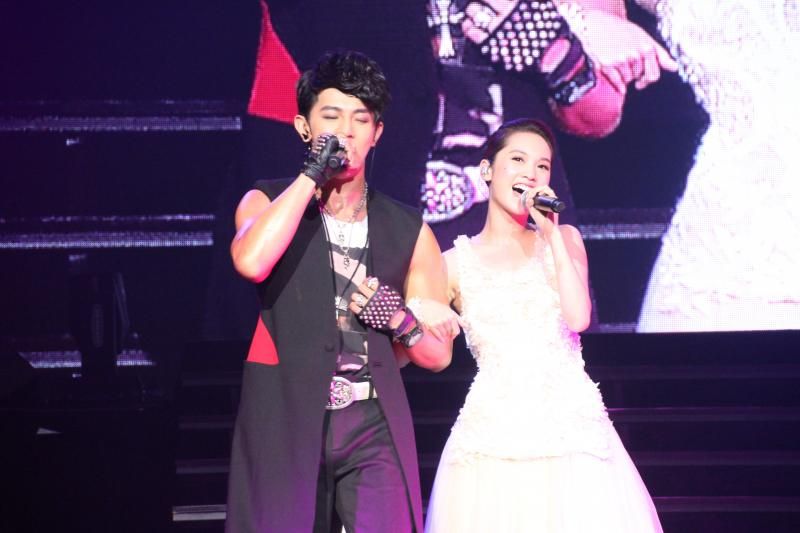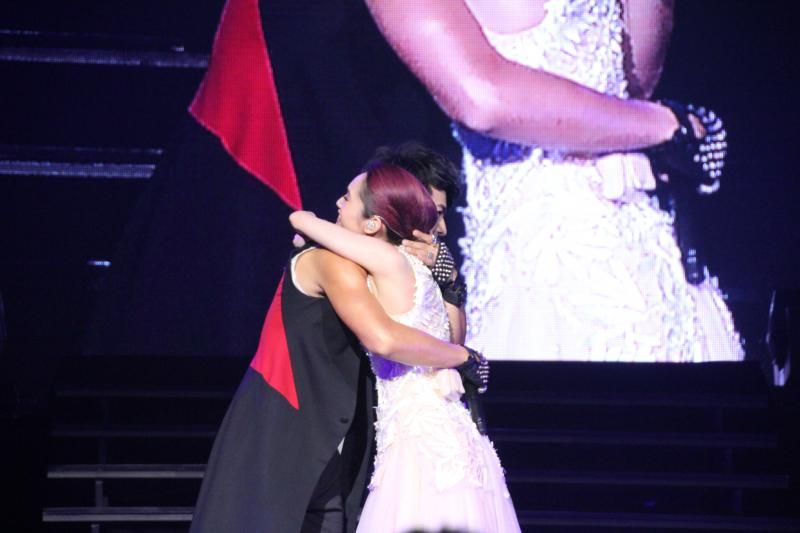 At one point, she shed a little tear when she told the audience that her mom was not here today. "This is the first time that she is not with me as she has to attend to a family matter and I feel a bit empty without her but I hope that you guys will post some message online so that she is assured that I am doing well here and that she can be proud of me". Having acted in my TV dramas, Rainie told the audience that she loves acting "Filming is not just working, it's part of my life".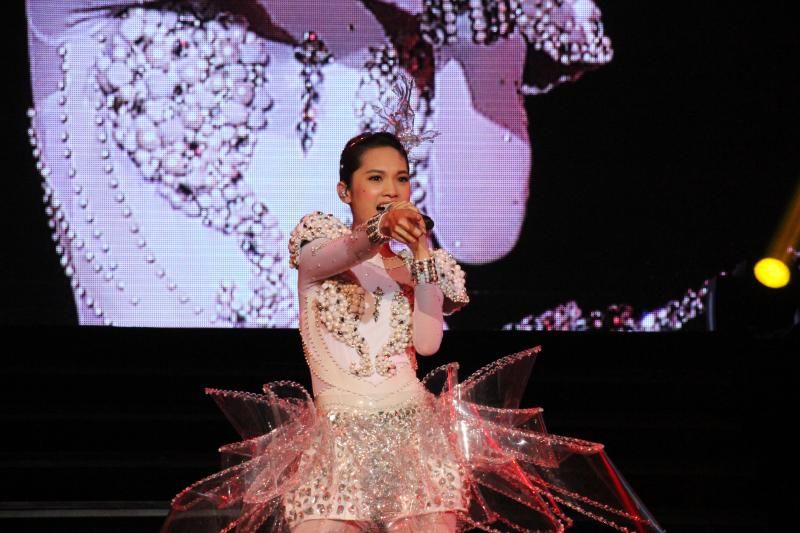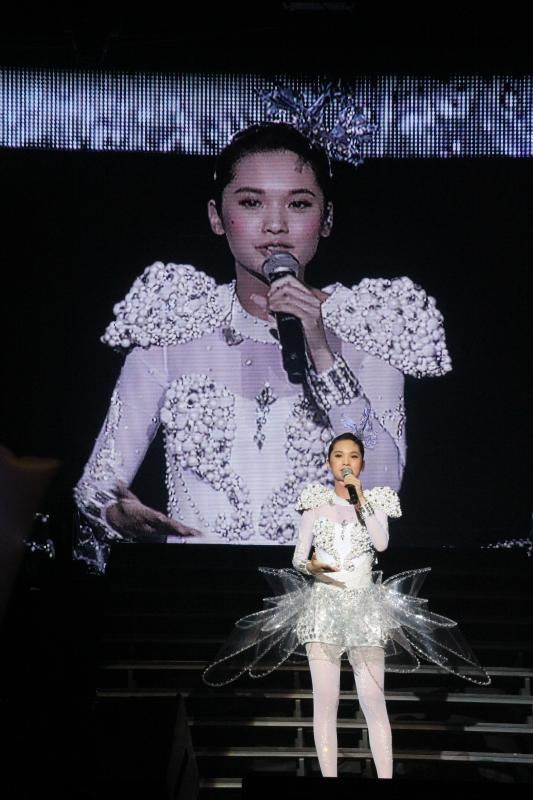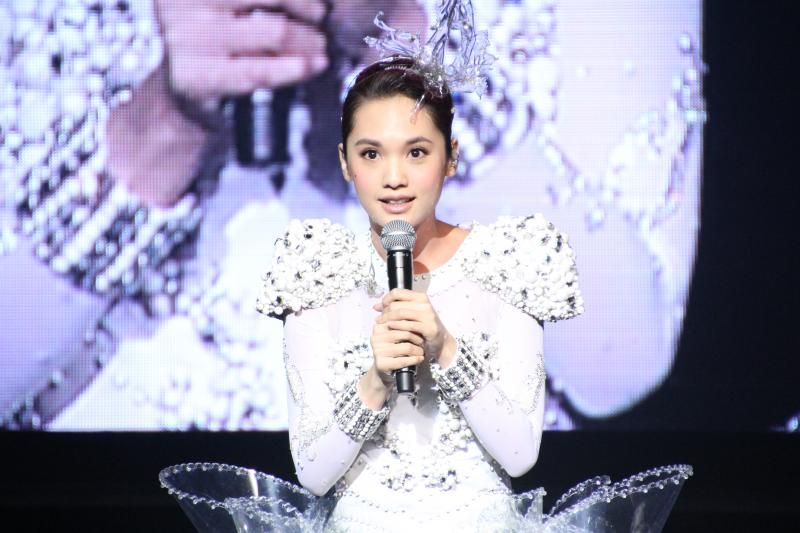 She also chatted with the audience in cantonese "I know most of you can speak Cantonese over here and therefore I sang a Cantonese song, "Cold War" specially for you but since this is Malaysia, I feel peculiar how come you all want to learn how to speak Cantonese", not aware that many dialects are widely spoken over here. Rainie also shared about her concern about the future as she will be turning 30 years old next year. About how her future husband would be, how to take care of her aging mum, how to organize family matters, children and other things. We can see that she is just like you and me, very down to earth person and at certain times, full of humor.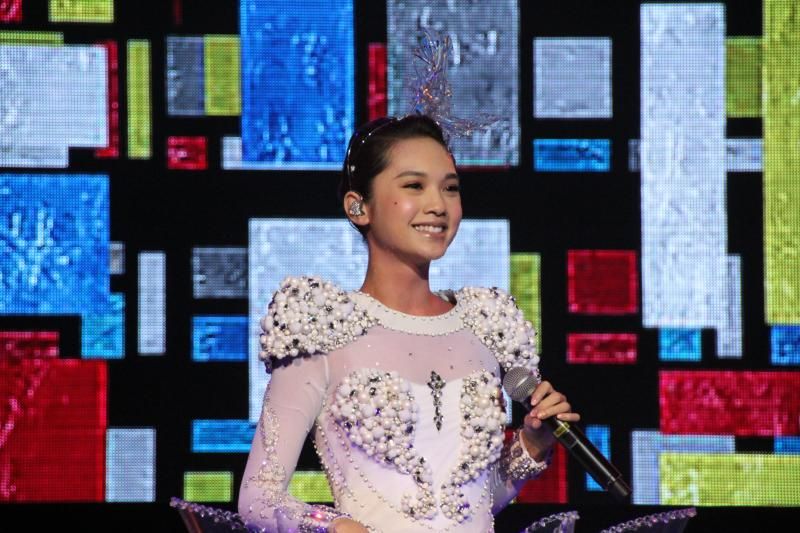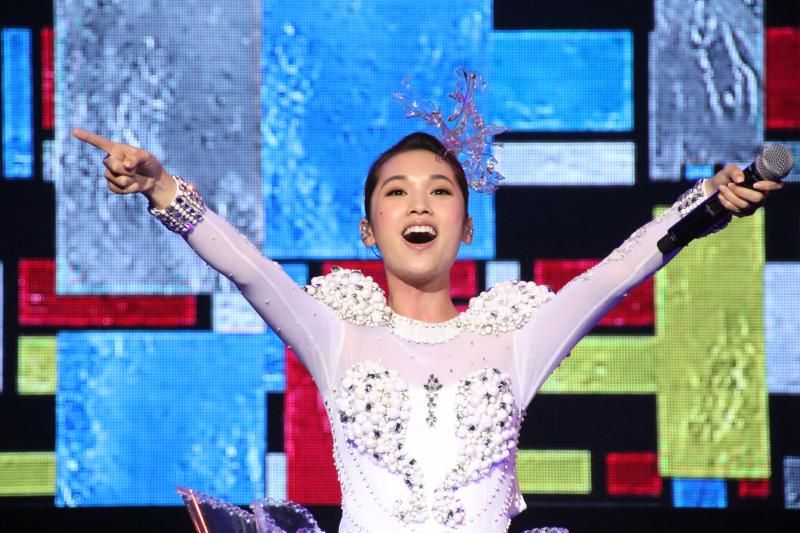 The other feat she did was during the finale. A giant glass bowl of water was pushed onto the stage and she ended her last song "Self Inflicted" by stepping into the glass bowl and emerge herself totally into the water for about 20 seconds. She came up, soaking wet, bowed to the audience and said her goodbyes and the audience roared in support.