Post by uptowndragon on May 29, 2013 12:47:49 GMT 7
Az Samad "in the deep night/electric poetry" Album Launch @ Merdekarya, PJ (28/5/13)IN DEEP WITH THE ELECTRIC POETStory & Photos:
Dragon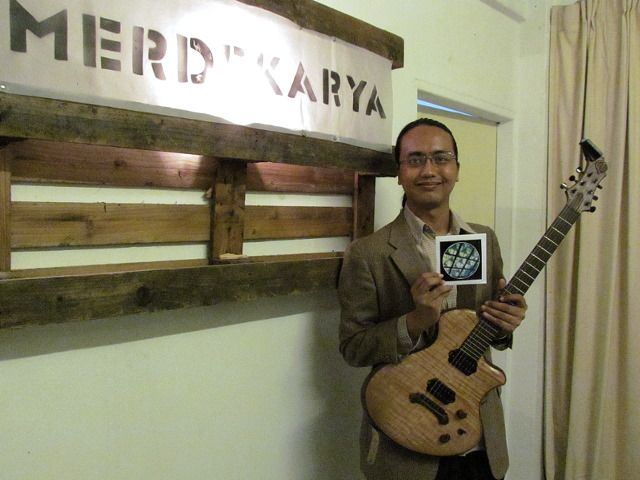 We would't be surprised if eclectic filmmaker Quentin Tarantino calls on talented guitarist, composer and music educator Az Samad for his next film soundtrack, after listening to Az performing a few tracks from his latest album 'in the deep night/electric poetry', at his official press launch yesterday afternoon, which was held at Merdekarya in Petaling Jaya. His eighth album is an electric guitar solo project which explores electric guitar textures, effects and looping on his hand crafted William Jeffrey Jones Proteus Electric Guitar and is a mix of jazz, new age & free improvisation. The first edition of the 10-track album is also a hand crafted project with only 100 units released and is set to be a collector's item. We have copy #5.
According to Az, who is usually seen totting an acoustic guitar, "The electric guitar is a a whole new experience for me and I am enjoying it because it's expressive in very different ways from the acoustic guitar. It's painting with sound textures more than actually painting with acoustic sound."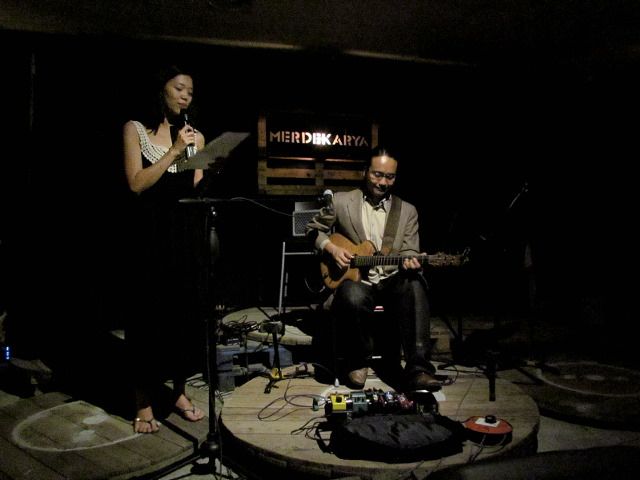 Introducing Az Samad - guitarist, composer and educator.
The album which sees Az venturing into electric space, is divided into two parts with the music from the "in the deep night" portion meant for relaxation, while "electric poetry" is an exploration of multi-tracked electric guitar & live looping.
'in the deep night', made up of tracks two to six, are improvised solo guitar pieces that are inspired by nature, and are meant to be a soundtrack for your thoughts and a backdrop for your imagination.
"The moods range from gentle reflections of life in water to the the subtle apparent darkness of the night. Tracks four and five, 'in space' and 'asteroid' are explorations of outer space through atmospheric harmonics and low chordal textures. The closing piece, 'thoughts that drift' uses soft melodies that cycle interspersed with a louder recurring note. This parallels how our thoughts wander from what is important to us to the concerns od daily life.", explained Az who recorded the entire album at his home in Bangsar, late at night when it was quieter. His fascination with minimalistic melodies and simple patterns are reflected in the cyclic nature of these tracks.
Az who started playing the guitar only at 16, recalls, "I remember my dad telling me that everything in nature is made out of very simple elements. He related it to me in simple terms, how a forest is made out of trees and a tree is made out of repetition of leaves. In some ways, that really left an impact on me and has made me fascinated with how everything is constructed. I often am delighted to find how some of my favourite pieces of music are made of simple ideas. This is what forms 'in the deep night'. They are simple ideas that slowly evolve into something different."
Az further explained, that his "electric poetry" (tracks 1, and 7 to 10) portion of the album are layered guitar pieces that are darker in feel compared to the first half of the album. Two of the pieces, 'an open mind' and 'in the hall of words' are explorations of the possibilities of live looping. Az begins with sparse layers of guitar that eventually meld together into layers of sound that sparkle and tickle the listener's ears, which may be quite a departure to fans who are familiar with his acoustic finger style guitar work.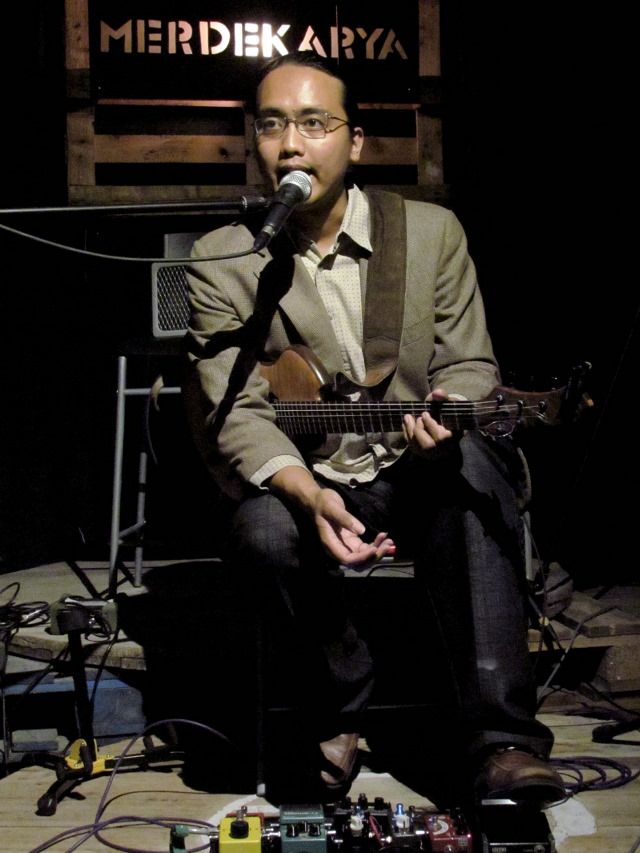 Az explaining the music on his latest release to the members of the media.
Az who holds four degrees in music from various Universities, including the prestigious Berklee College of Music, has been experimenting with looping since he moved to California in 2007. His most exciting moments were the opportunity to perform with Oakland electro funk jazz band Planet Loop, around the San Fransisco Bay Area. This allowed him to understand how looping freed him from the technical challenges of playing multiple guitar parts at the same time and to focus more on the orchestral possibilities. "Combining that with the sounds of the electric guitar opens up so many options," revealed Az.
Before turning to music, Az was a certified bookworm (and still is), who spent his youth in a room full of books. His 'trapped in a space of books' captures the feeling of being enclosed in a house full of books with the use of multi-tracked layers of guitar. Similarly, employing multi-tracked layered guitar, his 'chorale' and 'distance between hearts', also conveys feelings of space, but incorporates tremolo and chorus guitar effects. For 'chorale', he imagined each guitar line as a vocal line singing independently but still making sense together.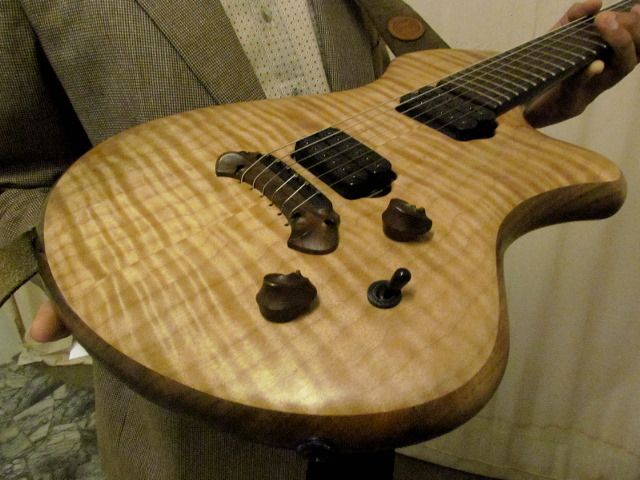 The hand built William Jeffrey Jones Proteus Electric Guitar which Az used on his album.
The talented and experimental Az who has no delusions of being a Billboard charting star, or even expect any serious local airplay for his niche product, says that the album is for the "dreamers and drifters, the folks who let their imagination drift away late at night, who like writing their own life story and for those who don't like a set path, pre-determined rules and expectations. It is an album for contemplative thinkers." Regardless, we would't be surprised if his richly textured, atmospheric, elemental and poetic music from his album may just end in soundtracks of local, or even international filmmakers.
For those who are not familiar with the prolific Az Samad who has been educating and entertaining us with his musical exploits, melodies and soundscapes for many years now, his talent has already been immortalized on 17 CD's ranging in styles from Tex-Mex, Contemporary Jazz to solo acoustic guitar. He has also recorded with Grammy winners, Tejano music accordionist Flaco Jimenez & bajo sexto player Max Baca. Previously based in Berklee, where he graduated and also taught, Az now lives in Kuala Lumpur and can be seen performing live in the local musical circuit regularly.
Tracklisting
1. an open mind
2. reflections in the water
3. in the deep night
4. in space
5. asteroid
6. thoughts that drift
7. trapped in a space of words
8. chorale
9. distance between hearts
10. in the hall of words
"in the deep night/electric poetry" which sells for RM40, is entirely conceptualized, written and produced by Az Samad and can be purchased from the artiste himself at his live performances, or at:
Candor Music at Solaris Dutamas, KL
Sixstrings at Aman Suria, PJ
Merdekarya at Petaling Garden, PJ
Toccata Studio at SS2, PJ
Digital downloads can be bought online here:
azsamad.bandcamp.com/album/in-the-deep-night-electric-poetry
For more information, visit
www.azsamad.com