Post by anastasia on Aug 22, 2012 12:24:01 GMT 7
JRock Tamashii 3 @ Taylor's Multipurpose Hall, Taylor's University Lake Side Campus, Petaling Jaya (1/9/12)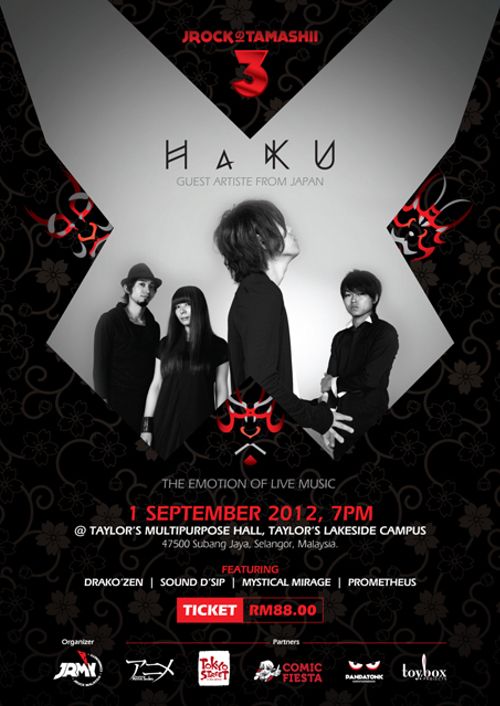 www.facebook.com/hakumusic
desu!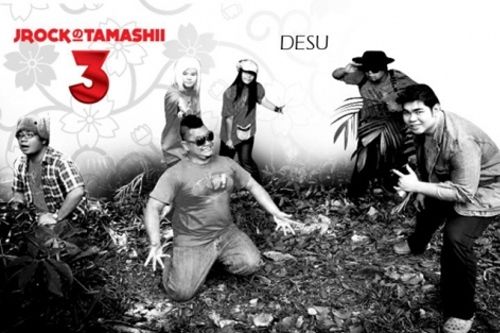 Performing for the second time for JRock Tamashii's events, "desu!" is a pop punk nerd band. They proclaimed their genre as AKIBA PUNK (influenced by genres like Pop Punk, NintendoCore, NerdCore, SynthPunk and Akiba Pop). They started off in the scene playing anime theme songs at ACG conventions. They also make their own songs, as they debuted their first single – "GACHA-LOVE!" early 2011. Their goal is to perform in the streets of AKIHABARA (Tokyo, Japan).
twitter.com/desuofficial
www.facebook.com/akibapunk
Diving Judy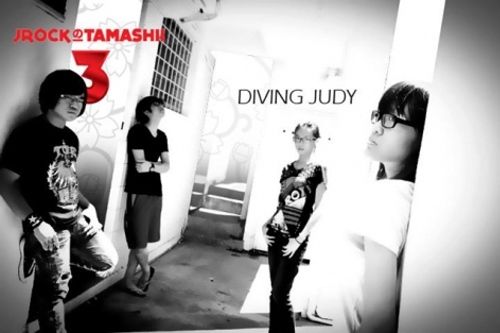 Performing for the first time for JRock Tamashii, Diving Judy will rock you out with their tones and ROCK energy on stage! They also participated and were the finalist of Cheras LeisureMall Battle of The Band 2011.
Strawberry Jam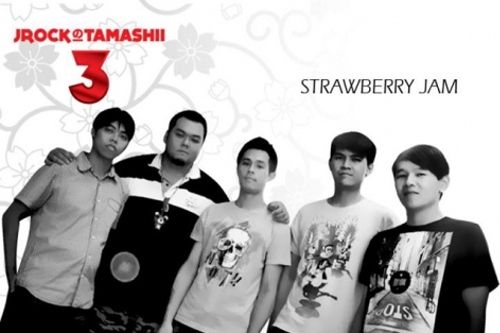 Strawberry Jam has been consistently around since JRock Kingdom, before it was then re-branded as "JRock の Tamashii". Better be there and start head-banging with them!
"Strawberry Jam mainly plays heavy metal. If it is not metal, it is not cool. We eat metal for breakfast everyday."
Strawberry Jam has so far played in numerous gigs and is continuing to spread the juice. "Strawberry" in English means the juicy, usually red, edible fruit of certain plants of the genus Fragaria. "Jam", means press tightly together or cram in English. When you combine Strawberry Jam together, you get a combination of fruit and sugar cooked until the mixture has an intense flavor and thick consistency. We combined this names into one to show that our music is explodingly delicious!
TEMJIN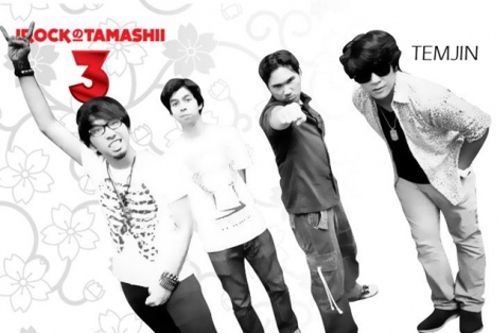 TEMJIN was formed in November 2009. The band is influenced by various kinds of rock musics, from metal to blues and jazz. Japanese music – both pop and rock has also been a major influence to the band in terms of song writing and playing. Some great bands like Luna Sea, L'arc~en~Ciel, Mucc, Acid Black Cherry, Gazette, Avenged Sevenfold, Nirvana, BECK, Detroit Metal City, Mr Big, Acidman, Tokyo Jihen and many more has been the band's influence from each of the band member. The band dreams to bring a whole new kind of music feel to its audience across the whole country.
TEMJIN also performed back in JRock Tamashii 2.
twitter.com/TEMJINrocks
www.facebook.com/TEMJINROCKS
Drako'Zen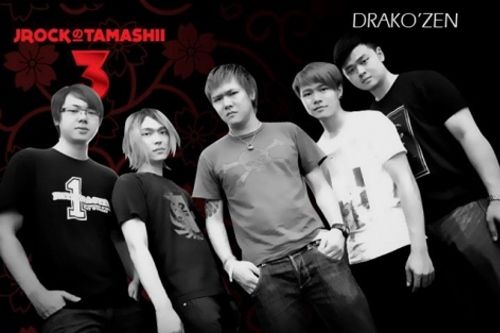 Drako'zen (Chinese: s a Malaysian Chinese Indie band formed in year 2008. Drako (drakos in Greek) refers to the fearsome ancient dragon, and "Zen" (in Japanese) symbolizes the merciness of Buddha. The band conceptualizes this two contradicting element in their music genre, a combination of life and death, evil and justice.
Drako'zen's music genre falls within heavy rock and metal, along with JRock style music and some sentimental pieces. Most of their song lyrics are written in Japanese, for the band members are majorly Japanese rock music influenced. The band has participated in big stage events such as "JRock Kingdom 2008" in Rumms and "JRock No Tamashi 2010" in Sunway Pyramid. Besides that , they were a participant were in the top 10 bands in Battle of The Bands – Passport to Fame.
%E7%A6%85/208360665880314" rel="nofollow" target="_blank">www.facebook.com/pages/Drakozen-%E9%BE%

%E7%A6%85/208360665880314
Mystical Mirage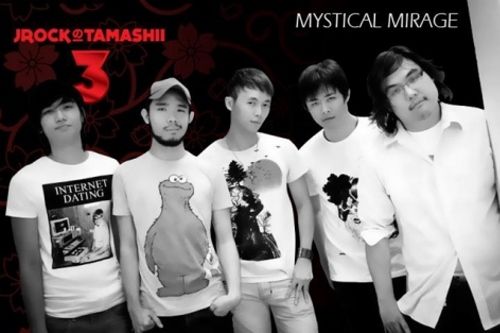 Mystical Mirage is a 5 piece experimental/progressive rock band in Malaysia and in vein of Linkin Park, Muse and The Gazette. They are Influence by Linkin Park, Greenday, Blink 182, Metallica, Muse, The Gazette, L'arc En Ciel, Dir En Grey, Mayday and etc. The band was formed in the year 2008 in Kuala Lumpur. They have also performed at JRock の Tamashii 2.
Twitter @mysticalmirageb
www.facebook.com/Mysticalmirageband
Prometheus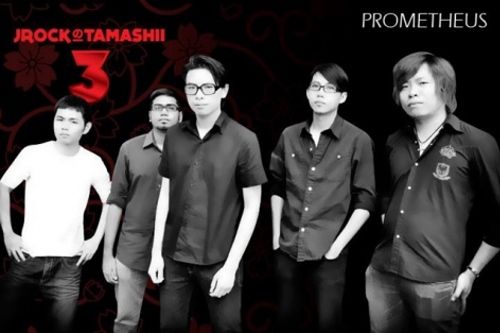 Performing for the first time in JRock の Tamashii's event, this newly formed band is a band full of punk energy in the best way possible! To ONE OK ROCK fans, be prepared to be screaming for this tribute band!
Sound D'Sip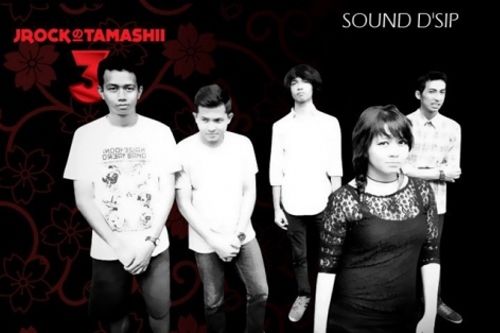 It is also the first time for Sound D'Sip to perform for JRock Tamashii's event. Sound D'sip, a band from Multimedia University, Cyberjaya, will continue to refresh your taste bud to give you a milder sweetness. Performing slower, softer tunes but nothing lack in skills and image. This newcomer is one to eye for! The band was also the champion of the recent Jammfest Uniten 2012.
www.facebook.com/pages/Sound-DSip/162214953879152
Ticketing Information:Ticket Prices:
RM 88.00
For More Information:
Email:
info@jrocknotamashii.com
URL:
www.jrocknotamashii.com
FB:
www.facebook.com/jrocktamashii