Post by uptowndragon on Mar 4, 2012 13:02:45 GMT 7
Lee Hom "Music Man 2" Live In Malaysia @ Stadium Merdeka, KL (3/3/12)MUSIC MAN TO SUPER SHOWMANStory:
Wendy Wong
Edited By:
Dragon
Photos:
Dragon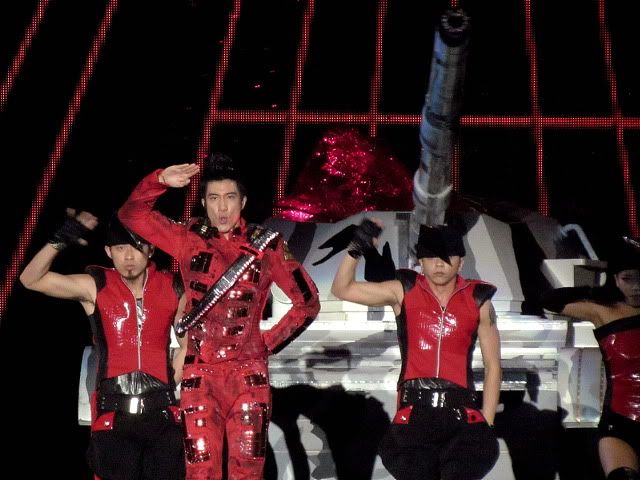 A salute to Lee Hom, the new action star.
Editor's Note
Not only is American born Taiwanese singer songwriter Wang Lee Hom a true blooded music man, he's also a fantastical showman, which the 25,000 supercharged concert goers who turned up last night for his live concert at the historical Stadium Merdeka, will certainly attest to. Despite the intermittent drizzle throughout the flamboyant two hours plus concert, the fans stayed rooted and lapped up not only his wide ranging musical abilities and distinct vocals, but also all the amazing razzle dazzle that the creative star dished out in spades.

Although having interviewed the talented star in person before, it was the first time I actually got to watch him in action in a live concert, and I certainly had a blast of time regardless of being lightly soaked in a mixture of rainwater and sweat (thanks to the cling wrapping disposable poncho), and came away very impressed from the concert which was organised by heavyweight organisers Galaxy Group.

- The Editor (Dragon)
Full Concert Review By Wendy Wong
The Music Man conquered the hearts of the full house crowd at Stadium Merdeka in an awesome and exhilarating concert. Wang Lee Hom showed us his prowess in singing, his impressive skills on the piano, violin, guitar and erhu and even showcase some of his groovy foot moves to the delight of the 25,000-strong crowd. Wang got his passionate fans cheering incessantly for him and nothing can stop them for wanting more, not even the rain! All in all, the 35 year old American born Taiwanese singer songwriter, actor, record producer and film director, delivered over 40 of his hit songs during the 2 hours plus sell out concert and braved through the rainy conditions.
The superhero appeared from a replica tank which came on to the stage, dressed in a red armoured like suit and opened his concert with performing the upbeat Huo Li Quan Kai (Open Fire), Long De Chuan Ren (Descendant of the Dragon) and Shi Ba Ban Wu Yi (18 Martial Arts). The opening performance was impressive as Wang sang and dance with a group of dancers complete with pyrotechnics. Halfway through singing Shi Ba Ban Wu Yi, the back screen opened up to show the assembly of a full orchestra playing for this song. Wang then tone down the tempo with one of my favourite numbers, Wei Yi (Only One) and everyone in the stadium sang along with him.
The highlight of the concert would be The Music Man reaching out to his fans on a "floating piano" (A specially designed white piano shaped like a space craft that circled the mid zone area of the stadium on a special track) As the piano moved on the track, Wang performed 3 beautiful songs, Ni Bu Zhi Dao De Shi (Things You Never Knew, the theme song from his directorial debut, Love in Disguise), Ai Cuo (Wrong Love) and Xin Tiao (Heartbeat). At this point of time, his fans got all excited and rushed towards the "floating piano" to get closer to their superstar.
Wang is the 15th Anniversary Ambassador for World Vision Malaysia and during the intervals, video clips of the highlights of his charitable journey to Laos and Sierra Leone (narrated by Taiwanese actress, singer, director and producer, Sylvia Chang) was played on the screen as well as some of the highlights from his directorial debut, Love In Disguise. Before Wang performed the song Love, Love, Love, he said "This next song is something you need in life, besides eating, sleeping, drinking, what else you need? You need Love, we all need love and I need love". Was he hinting on something in his love life? Wang has been rumoured to have been romantically linked with Taiwanese actress, Shu Qi.
The Taiwanese pop star had great interaction with the fans and also showed us his comical side. At one point, he looked up to the sky, opened his mouth and stuck out his tongue to taste the rain and said "Actually I came to Malaysia to take a shower and I'm very thankful to have all of you taking a shower together with me".
We know Wang is multi talented, he can sing and play various type of musical instrument. We were treated to a spectacular performance on the violin during Julia and Luo Ye Gui Gen (Back To The Roots) and the erhu during Zai Na Yao Yuan De Di Fang (In That Faraway Place). As he promised earlier, there will be more dancing in this concert, he had a sexy dance off with a female dancer that made his fans screamed. Another highlight was the part where Wang sang acapella with himself! The screen projected a video of 6 Wang Lee Hom singing and together with the live Wang Lee Hom on stage, they performed a medley of songs together, acapella style, something very different and unique. Wang even did a duet, Ni Shi Wo Xin Nei De Yi Shou Ge (You're The Song In My Heart) with Selina from the Taiwanese girl group, SHE, (she appeared in the video on the screen). To top it off, Wang had some exciting and entertaining fight scenes with animated creatures and ninjas on the screen, all done with the perfect timing.
During the performance of Fang Kai Ni De Shou (Let Go Of Your Hand), Wang used 4 different type of language to tell his fans "I Love You", in Mandarin, Korean, Cantonese and of course Malay "Saya Cinta Pada Mu". He asked the audience to practice saying "Saya Cinta Pada Mu" as he wanted to record a live short clip onto this Sina Weibo account. He called someone out to record the short clip with him saying "Hello Weibo friends, I am now at the concert in Kuala Lumpur and the people here have something to say to you" and the whole stadium roared "Saya Cinta Pada Mu'. Then Wang continued to explain that it meant I Love You in Malay.
Wang did not forget his fans who sat right at the back of the stadium as he went around the whole stadium, reaching out to them, in a specially designed vehicle. Everyone had the chance to see him in close range and at the same time it got everyone going berserk, rushing to get closer to him. I'm sure everyone left the stadium that night with a big smile on their face and a memory to last a lifetime.
More photos coming up. Stay tuned.