Post by idolfan on Jan 18, 2012 14:04:22 GMT 7
The Great Magician – the interview with Sean Lau Ching Wan
Hong Kong award winning actor Sean Lau Ching Wan was in town recently to promote his latest movie "The Great Magician", directed by Derek Yee and starring alongside with stellar names like Tony Leung and Zhou Xun. Lau's joined TVB acting class in 1983 and made his first appearance on TV in 1984 with the TV drama "Draw Out The Rainbow" and one of his memorable roles was he acted opposite Adam Cheng in the immensely popular stock market drama "The Greed of Man".
Lau made his film debut in 1986, "Silent Love" and since then has been casted in an increasing number of roles. Amongst his more memorable roles includes acting as a down and out musician opposite Anita Yuen in "C'est la vie, mon cheri" and a number of police thrillers such as "Big Bullets", "Full Alert", "The Longest Nite", "Running Out Of Time", "Mad Detective" and "Overheard". Besides the serious roles, Lau has also proven himself to be versatile handling comedy roles with ease in "La Brassiere", "Three Of A Kind" and "Poker King".
He won Best Actor Awards at the Hong Kong Film's Critics Society Awards in 1997 and 2001 and the Golden Bauhima Awards in 1999. Lau also won his first Best Actor at the Hong Kong Film Awards in 2007 for his role as Poon Ka Fai in the movie "My Name is Fame".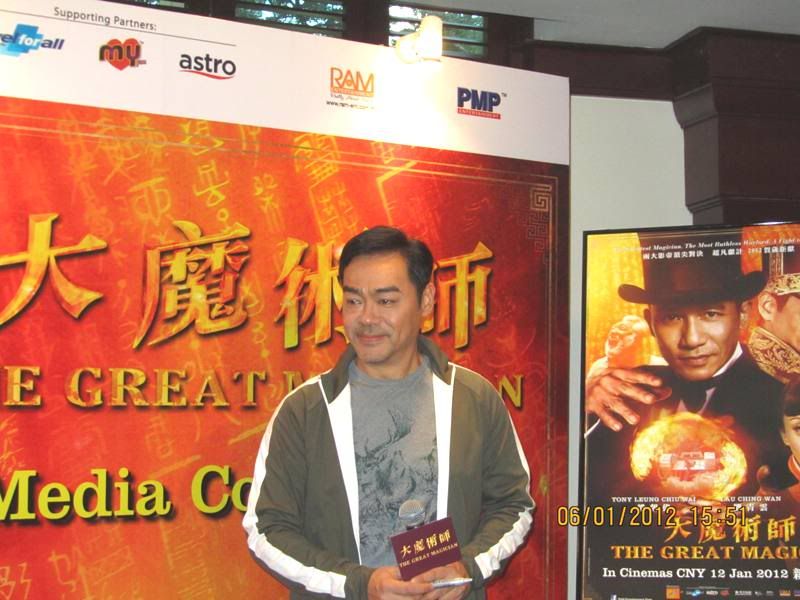 How do you rate yourself for this movie and why?
Well about 60%. Normally as an actor, after you have completed a movie and watched it, you will feel that you could have done better. That's what I felt.
What made you take on this role?
Basically it's because of the Director. I have worked with Derek Yee in many movies before. He gave me a story book and told me what role I was going to play. Then he said that he is going to change the story line and it's not going to be same as in the book. Then I asked him why he gave me the book? But anyway I did read some parts of the book and felt that the character is very special and of course I have much confidence in the director.
What was your most memorable thing in the movie?
Of course it would be acting alongside with Tony Leung and Zhou Xun, the magic, my tank (he said with a chuckle) and most of all, my moustache. Actually this moustache is quite long and I was thinking how will they be able to put it on me. But after putting it on, everyone looked at me and said "It definitely suits you a lot!"
Do you like Malaysia?
I love Malaysia. In fact I love the sun and beach. I was filming in Shanghai two days ago and it was -4°C and I was promoting this movie in Hong Kong a day ago and it was 10°C there. I feel very comfortable here with the warm weather. In fact I do come over once a while as I have a relative who is residing in Taiping.
What type of of role would you prefer to take on, the serious type, comical or the bad guys?
For me, it does not matter, most important is what is written in the script for that particular role.
In this movie, the character you portray, General Lei looks very serious but during the conversations, he sounded comical.
His character is like that. He always acts stupid in front of others and he thinks he can fool people but actually he is quite stupid!
So far which of the movie that you have acted in, that you like the most and why
In fact I like a lot of them but every time I like a particular movie for a period of time and then after completing the next one, I feel that I like the other movie better.
From an audience point of view, which film do you like the most?
Actually I love cartoon films! (he said with a grin) My favourite is Kungfu Panda and I have done voice over for Toy Story and Finding Nemo (Hong Kong version).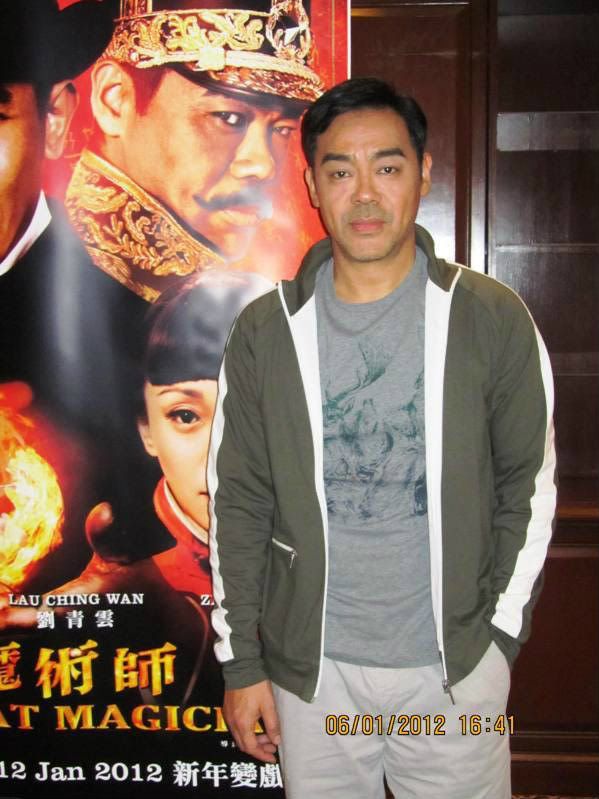 Have you ever thought of directing your own movie
Actually, yes. I have thought of that before. I was told that to be a director, you have to know what to film and what kind of genre you want to do. I thought about for a long time but can't come out with any story. Moreover being a director is a very difficult job. As a director you need to solve more than 100 issues daily but for me I only know how to solve two issues, which are what to eat and where to eat. So how to be a director?? And also as an artiste, we get to go home after filming but not the director. He has to stay back for meetings and plan for the next day's filming etc.
Have you ever thought of using magic to please your wife?
Well no, but since you brought it up, I might think about it but magic needs a lot of practice. If I start practicing now, maybe I could start using it next year … haha.
What are your targets / aspirations for 2012?
I hope I can do more of the things that I like to do, like acting and going for holidays. I hope to learn how to surf! I love to surf but so far have not tried it yet.
What are your future projects?
I'm still in the midst of filming "Disappeared Bullets" with Nicholas Tse, Yang Mi and Liu Kai Chi, which should wrap before the lunar new year and I have a few other projects under discussion but nothing concrete yet.
Scenes from the Meet & Greet @ Pavilion KL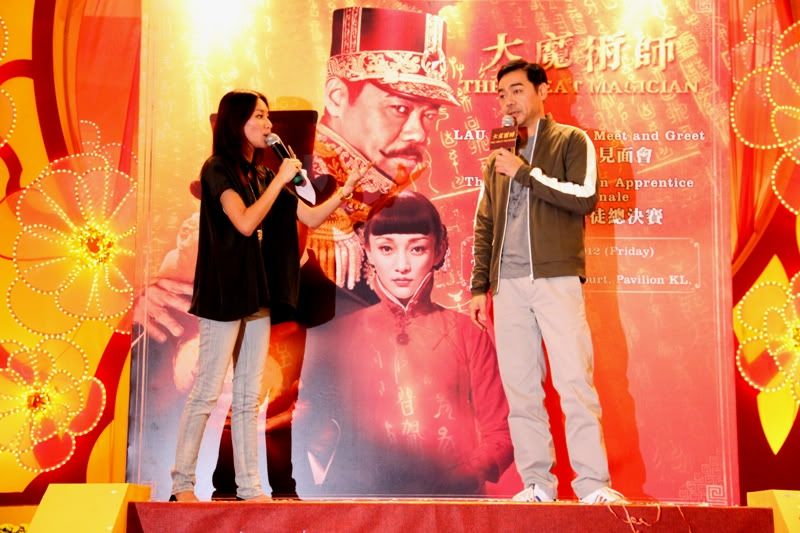 Having a little chat with MY FM DJ, Gan Mei Yan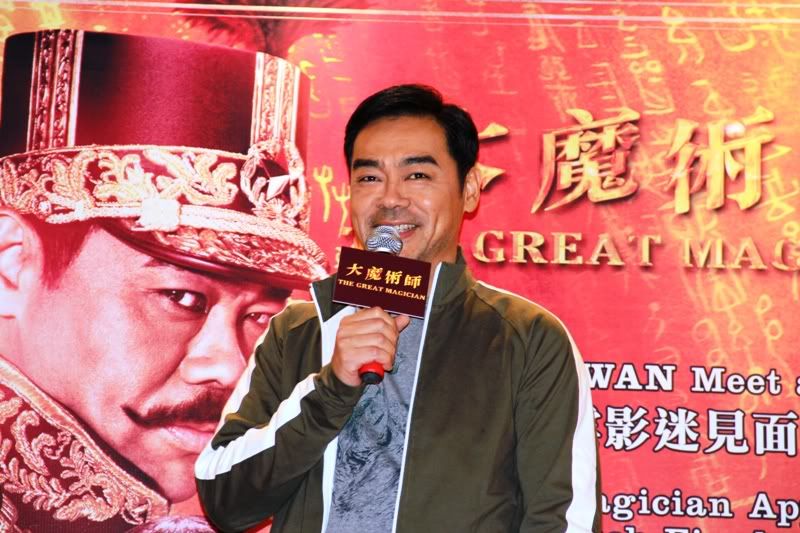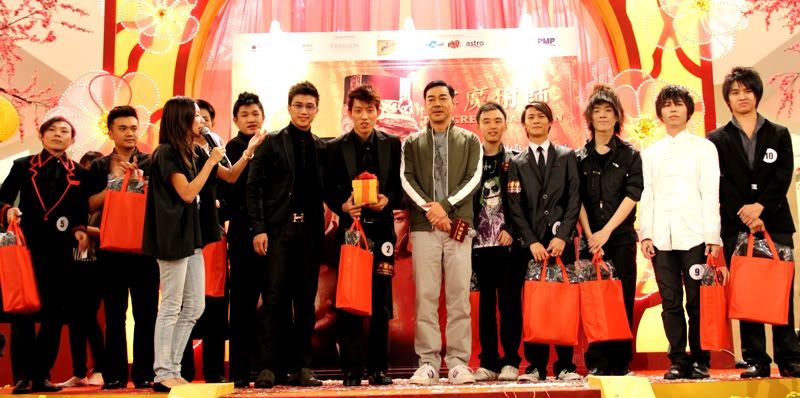 With the 10 participants of The Great Magician's Apprentice Search. The participants stand a chance to win an apprenticeship with Mind Magician, Zlwin Chew, magic props and a Samsung Galaxy S II. The winner was JC Yeo who impressed the audience with his magic act – Dove Fantasy. (Standing on the left of Lau)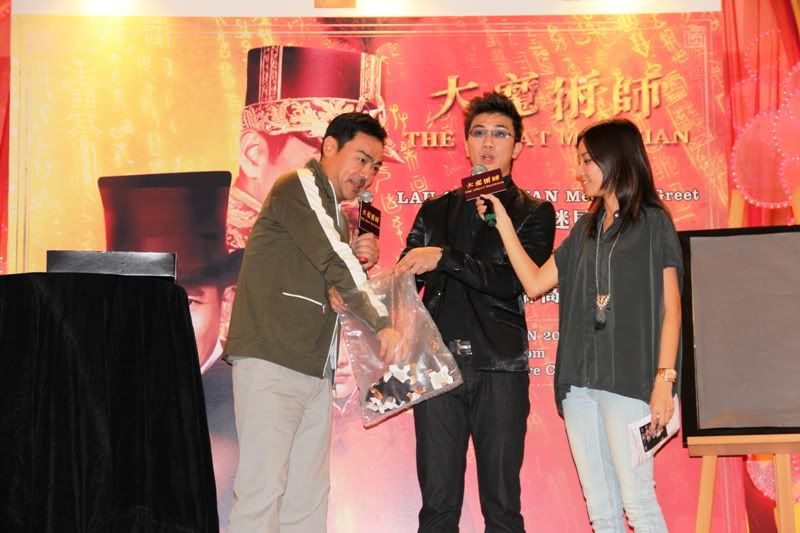 Doing a magic feat with Zlwin Chew. He asked Lau to pick a piece of puzzle from the bag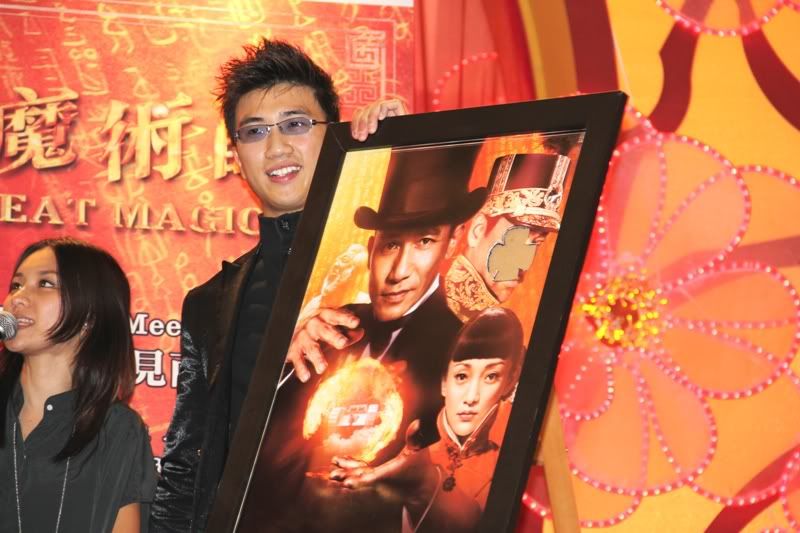 The piece of puzzle that Lau picked was the picture of his face on the poster !
Tadaaa ... that is magic !