Post by uptowndragon on Jan 14, 2012 9:00:37 GMT 7
Bang Yong Guk & Zelo Press Conference @ Fullhouse, Sunway Giza, Kota Damansara, PJ(13/1/12)BLONDE & BANGING - KPOP DUO WITH A DIFFERENCEStory:
Anastasia
Photos:
Dragon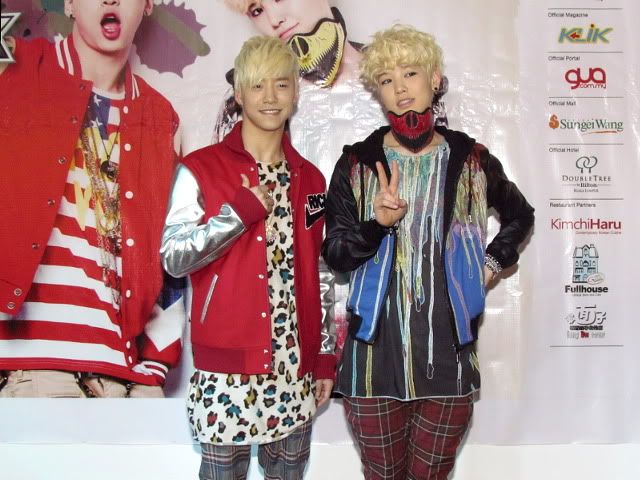 At 15, the androgynous looking Choi Jun Hong, better known as Zelo, with a height of 182 cm is already a fraction taller than his 21 year old duo partner Bang Yong Guk, who is no shorty himself. Together they make up Korea's latest sensations Bang & Zelo, an edgy two person hip hop flavored sub-unit of the upcoming K-Pop group B.A.P. (Best, Absolute, Perfect) from the TS Entertainment stable of talents.
Rapper, composer & lyricist Bang Yong Guk, who is also the leader of B.A.P. was already an established underground rapper with the well known "Soul Connection" under his previous stage name Jepp Blackman, prior to signing to TS Entertainment. He made his solo debut with "I Remember", a chart topping track which he co wrote with One Way's Chance, and features Yoseob from top K-Pop group Beast. He also has had success earlier with "Going Crazy", a collaborative effort with Secret's Song Ji Eun.
B.A.P.'s latest edition, fresh faced rapper Zelo may be new to the block but has quickly established himself as a force to be reckoned with with his powerful & soulful rap vocals. He was renamed after the Greek God of Rivalry, Zelos, for his constant determination to prove himself despite being young.
Together power rookies Bang & Zelo have already released their debut single, the chart smashing heavy hip hop track "Never Give Up", which is dedicated specially to high school seniors who received their results for the university entrance exams. The lyrics of the song encompasses the worries, hopes, and dreams that students face during their teens and young adulthood. The song also features highly-regarded gospel act Heritage, who were the recipient of the R&B-Soul Song Award at the 2007 Korean Popular Music Awards.
The duo were presented to the members of the media yesterday morning at a promotional press conference that was held at the Fullhouse Restaurant in Sunway Giza, Koata Damansara.
Full story & complete pics coming up.