Post by uptowndragon on Jan 12, 2012 10:11:25 GMT 7
Ah Beng The Movie: 3 Wishes Press Conference @ TGV Sunway Pyramid (11/1/12)WISH COMES TRUE: FIRST LOCAL MOVIE TO HIT CINEMAS DURING CNY GOLDEN PERIODStory:
Anastasia
Photos:
Dragon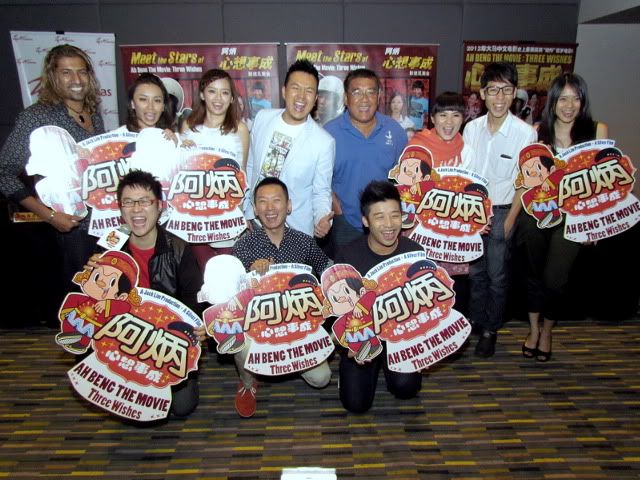 Ah Beng (Jack Lim) & Silver, flanked by cast members made up of MyFM/Astro DJs & emcees
In just four more days, the locally made feel good action comedy "Ah Beng The Movie: 3 Wishes" will be holding its first worldwide gala premiere at Pavilion Kuala Lumpur. The glamorous red carpet event slated on 14th January, 2012, will see the entire cast & crew hosting more than 100 local celebrities and guests at the premiere screening of the first ever locally produced Chinese movie to hit the silver screen during the much sought after Chinese New year golden period slot, which has always been the purview of international films. The locally casted, scripted and produced movie which will face stiff competition from both Hong Kong and Hollywood blockbusters, is scheduled to open in 88 cinemas nationwide, the following day, in time for the Chinese New Year celebrations during this year of the Dragon.
According to producer and lead actor, Jack Lim, who plays Ah Beng, the cast and crew have set a record of going to more than 100 places throughout East & Peninsular Malaysia since last December, to promote the highly anticipated movie. Other promotional activities prior to the release of the movie, includes the "Find Ah Beng & 7 Friends Contest" which requires movie goers to find all 8 different live-size standees of Ah beng and his 7 friends, and take a photograph with each of the standee and upload the the photographs to
www.facebook.com/ahbengthemovie3wishes
and to complete a simple slogan. Participants will have a chance to win attractive prizes that includes cash, mobile phones and exclusive limited edition Ah Beng merchandise.
There are also various other cinema promotions going on that will allow fans to collect Ah Beng The Movie special merchandise that includes specially designed ang pow packets from Cathay Cineplexes and MBO Cinemas, a multi-purpose container from Big Cinemas, small popcorn from GSC Cinemas and exclusive limited edition Ah Beng popcorn and drinks tumbler from TGV Cinemas.
All this was announced during a press conference that was held after the first media screening of the movie, at TGV Sunway Pyramid, yesterday morning, which saw the attendance of Jack Lim, director Silver, and most of the main cast from the much hyped and promoted film, that hopes to make a big box office breakthrough. The light hearted movie with an enormous message of hope and friendship, was filmed in under 19 days featuring a cast of non professional actors, made up of popular announcers, deejays & emcees from MyFm and Astro. They include Gan Jiang Han (Ah Beng's dad), Royce Tan (Rain), Bernard Hiew (Bobby), Chen Keat Yoke (Salted Fish Lian), Gan Mei Yan (Ah Lian) & Wan Wai Fun (Ah Beng's mum), who were also on hand to meet members of the media at the post preview event.
Full story, cast interview, movie review and complete pics coming up.