Post by idolfan on Dec 1, 2011 0:06:37 GMT 7
Magic To Win Star Tour Press Conference @ JW Marriott KL (28/11/11)HK STARS IN TOWN TO SPREAD SOME MAGIC & WIN FANSStory:
Wendy Wong
Photos:
Frankie Pek
Wu Chun, Raymond Wong and Wilson Yip casting a spell on the media.
Director Wilson Yip, Producer/Actor Raymond Wong and Actor, Bruneian heartthrob Wu Chun, was in town recently for the Malaysian Promotional Tour in conjunction with the release of the Chinese Blockbuster Movie "Magic To Win".
This RM 30mil movie is a spin off from Raymond Wong's extremely popular classic comedy Happy Ghost Series which spawned 5 series from 1984 to 1991. The story is also in a university campus setting but has been expanded with the addition of magical elements.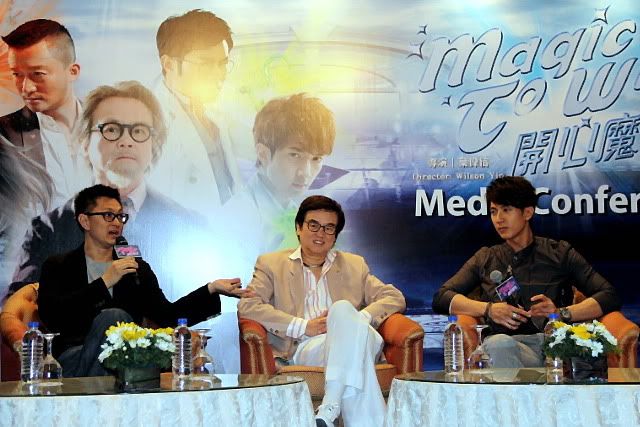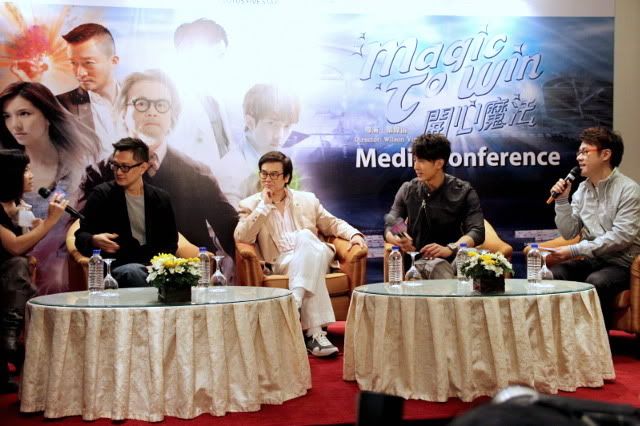 Hong Kong veteran Producer/Director/Presenter/Actor, Raymond Wong has returned to his first ever successful film venture where he portrayed as the spirit of a dead scholar, Hong Sam Kwai, in "Happy Ghost". This classic comedy film spawned a series of 5 movies from 1983 to 1991 and made him one of the most successful director and producer in the Hong Kong film industry. Raymond shared "I called this an upgraded version of Happy Ghost and some of the scenes in this movie are quite similar, like the sport events, and it is something like a salute to the Happy Ghost series". Raymond continued "My character has also been promoted to Professor in this movie as previously in Happy Ghost, I was just a teacher. This time around we added a touch of magic to it combined with lots of action".
Raymond said that he has much confident in Director Wilson Yip and team as they have worked together in a few projects like Dragon Tiger Gate, Flash Point, Ip Man and Ip Man 2. When asked whether there will be a sequel to this movie, Raymond replied "Well if this movie is well accepted by the audience, then why not. Normally only good movies have sequels and I understand now is your school holidays and this movie should augur well with the students".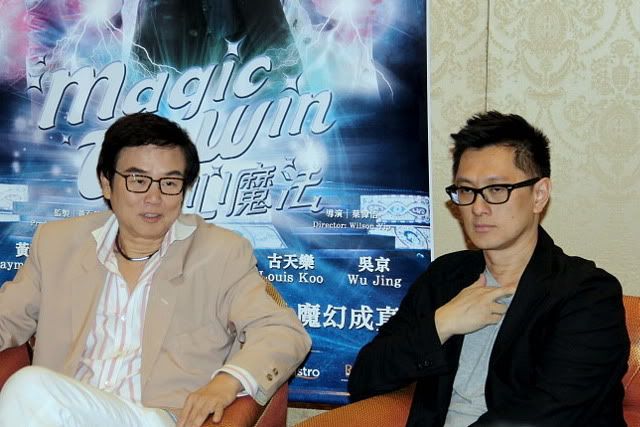 Wilson shared that the most difficult part in making this movie was the production and timing factor as for this kind of subject matter, the longer you work on it, the better it will be, as one can play around with different things and there are no limitations. So if given more time, the outcome would be better. "It also gave me a lot of space to work with my imagination especially on the action scenes" continued Wilson.
Bruneian heartthrob and ex member of popular Taiwanese boy band, Fahrenheit, Wu Chun played the role of an ecologist with magical powers in this movie. He said the most difficult part was to rely very much on his imagination during filming. Wu Chun shared "This is a first time I'm playing the role of a wizard with magic powers and therefore it's something very new to me. In fact I accepted this role without having to read the script as I was a big fan of Wilson and have always wanted to work with him". Wilson praised Wu Chun saying that he was very professional, punctual and well mannered. Wilson was also surprised how muscular and well-built Wu Chun was when he first met him and finds him very suitable for the role.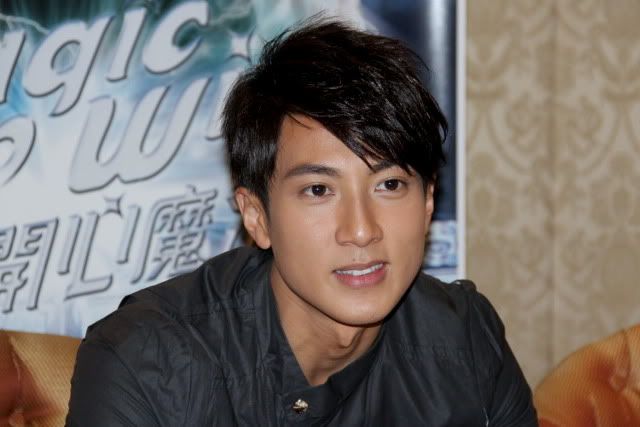 Wu Chun left a very successful singing career (quitting Fahrenheit in June this year) to concentrate on his acting and have landed big roles in movies. His next big one will be playing Yang Yanzhao in the historical epic Saving General Yang, also produced by Raymond Wong. When asked about his co-star, Karena Ng, Wu Chun has praises for her "She does not seem to be a newcomer as she is very steady and full of confidence. Magic To Win marks the debut of Karena Ng, a fresh face newcomer barely 18 years old, who was spotted in an advertisement.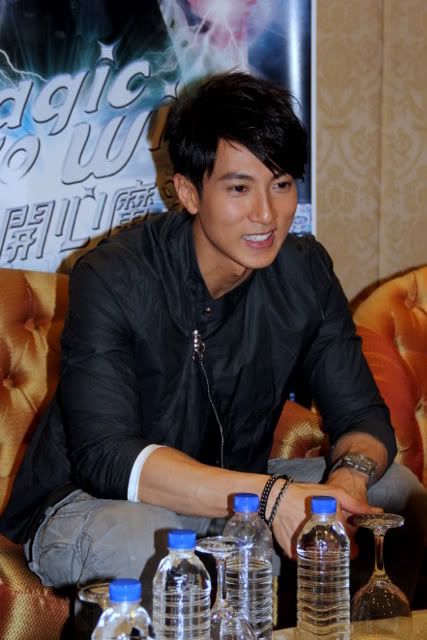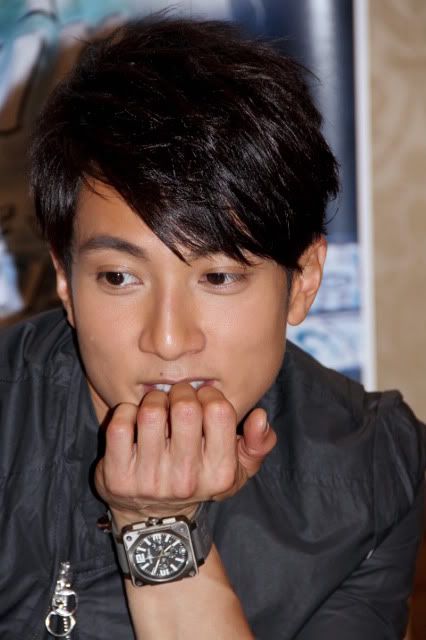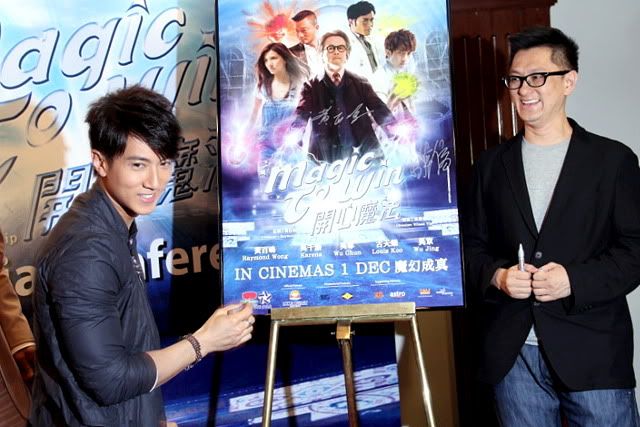 Movie Synopsis
The world constituted of five elements: metal, wood, water, fire and earth. In the wizardry world of
Magic To Win
, it revolves around the story of "Five Elements Wizardry". Hong Sum-Kwai (Raymond Wong), a university professor, is the wizard of water of "Five Elements Wizardry". Although he casts magic spells in his daily life, his superpower remains a secret. Then by accident, his power is transmitted to his student, Macy (Karena Ng), bringing an enchanting and meaningful adventure to this ordinary girl. Top up with some humour and special 'magical' effects, this movie is definitely entertaining for all to watch.
Magic To Win is now showing in cinemas nation-wide.
(Distribution by Lotus Five Star, Marketing by RAM).