Post by idolfan on Oct 11, 2011 9:00:32 GMT 7
Be Charmed Live In Malaysia 2011 @ Arena Of Stars, Genting (8/10/11)THE CHARMING FIVE SPIN THEIR MAGIC IN GENTINGStory:
Wendy Wong
Photos:
Frankie Pek
The Charming Five are Ron Ng, Myolie Wu, Kate Tsui, Michael Tse & Fala Chen
Five dynamic stars from Hong Kong charmed their way into the hearts of the capacity crowd at the Arena of Stars in Genting Highland recently. The two dashing gentlemen, Michael Tse, Ron Ng and the three stunning ladies, Kate Tsui, Myolie Wu and Fala Chen, worked their magic and mesmerized the audience with their performances in their Be Charmed Live in Malaysia 2011. All in all they performed 26 songs in a two and half hours show which included group collaborations, duets and also solo segments. The five of them are the current hot stars from TVB Hong Kong and have acted in numerous TV dramas which have huge following not only in Hong Kong but also here in Malaysia. This is their first joint concert for the five of them.
The fiery three ladies opened the concert with 'Trusted Person's Love" accompanied by dancers amidst deafening cheers from the crowd, followed by the two heartthrobs, Michael and Ron who came out to perform "Change Myself". The girls came back on soon after to launch into "Love Sparks" with the guys.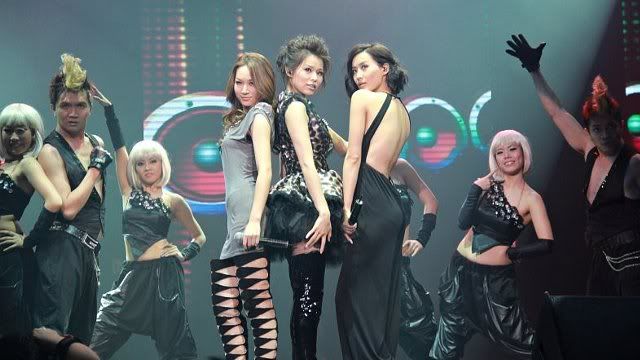 The sizzling three - Kate Tsui, Myolie Wu & Fala Chen.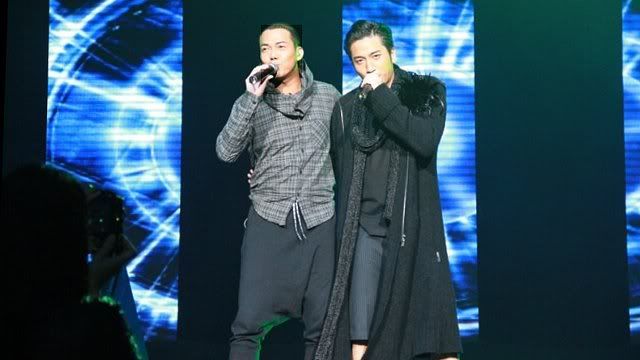 Which lady wouldn't want to be with these heartthrobs - Michael Tse & Ron Ng?
The first to take the stage for the solo segment was Michael Tse who is more popularly known as "Laughing Gor" which literally means Laughing Brother. Michael's portrayal of a gangster named "Laughing Gor" in the TV drama "Emergency Unit" became very popular with audiences and was regarded as one of the best performances in his career which won him the Best Supporting Actor at the TVB Anniversary Awards in 2009. Due to his popularity, a spin off film of Emergency Unit featuring "Laughing Gor", entitled "Turning Point" was produced. Michael is also known to be a very good dancer. In 2007, he participated and won the joint partnership production between TVB and Henan TV spinoff of BBC's "Strictly Come Dancing".
Michael told the audience "Dont worry, I'm not escaping from filming, I took leave to come over here for the concert". With that, he launched into the song "Alone", which is the theme song from the TV drama "Lives of Omission". He proceeded to perform two more songs for his solo segment including showing us his slick moves before passing the stage to the next performer. Michael joked "Normally who would bring their superior for a vacation? I did, I brought my superior, Madam Jo" and introduced Fala onto the stage for a duet with her. Fala portrayed the character "Madam Jo" who is Laughing Gor's superior, in the TV drama "Lives of Omission".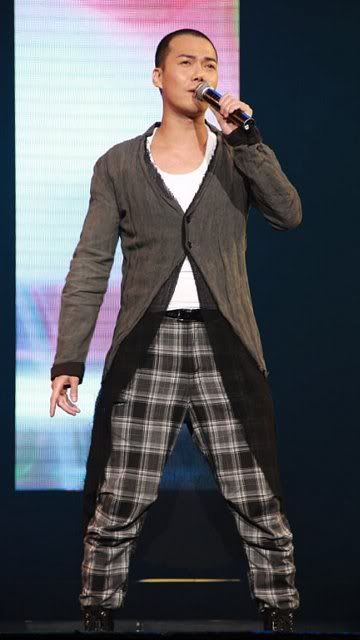 Michael Tse looking quite funky in his checkered pants.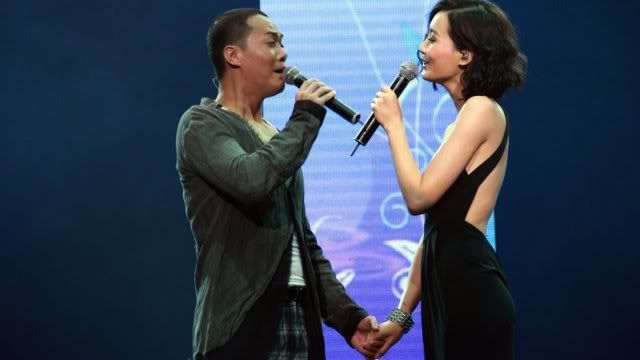 Dueting with his superior.
The sweet and demure Fala Chen took the stage for her solo segment and brought us three songs. She said "This is the first time I'm performing in Genting and also the first time performing in front of such a big crowd. I am very happy to see such a big turn up and all of you are so warm and passionate and I hope to come here more often in the future". She told the audience that amidst her busy filming schedules, she is able to find some time to practice her dance moves for this concert. Fala also shared that she is more confident to sing in Mandarin than Cantonese. At the end of her session, Fala invited Myolie and Kate on stage to perform two songs with her.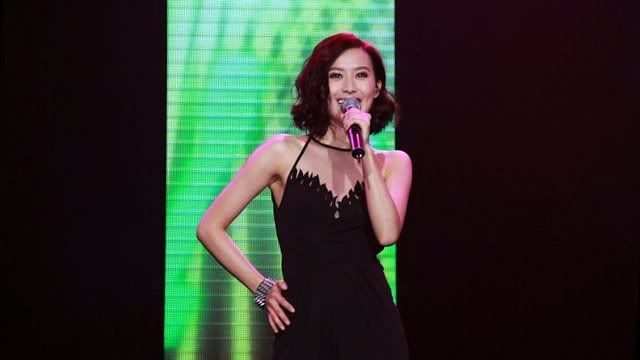 Elegantly Fala Chen.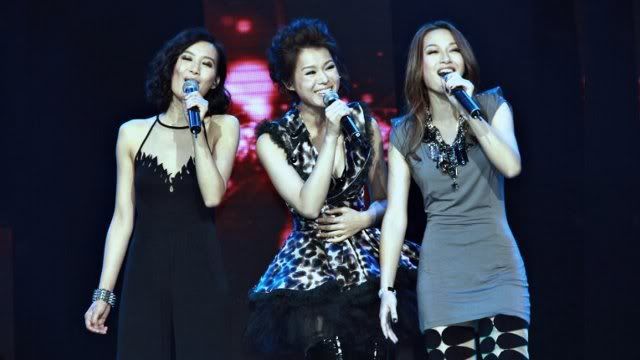 Another sizzling number from the fabulous ladies
Next up was the sexy Kate who requested for a guy to come on stage to duet the song "A Small Dimple" (originally sung by J.J. Lin & Charlene Choi). She told the audience "This is a rare opportunity, to come up and sing with me". She then came down from the stage to search for a volunteer and a middle aged guy said he knew how to sing the song and went up on stage with her but it was not so and he got booed from the audience. Then a young guy wearing Kate's fan club tee shirt came on stage and sang the song with her. Kate gave a shout out to her fans who came all the way from Guangzhou and said that this was the first time she sang with her fan on stage. Kate continued to perform three more songs which included a fresh jazzy version of "Love Tide" (a popular romantic ballad by Jeff Chang) and some sexy and seductive dance moves when she performed her own upbeat songs entitled "Read Minds" and "Hit Me".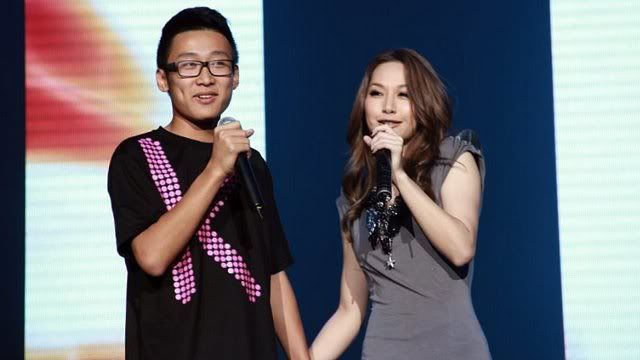 Kate Tsui singing with a shy fan from Guangzhou.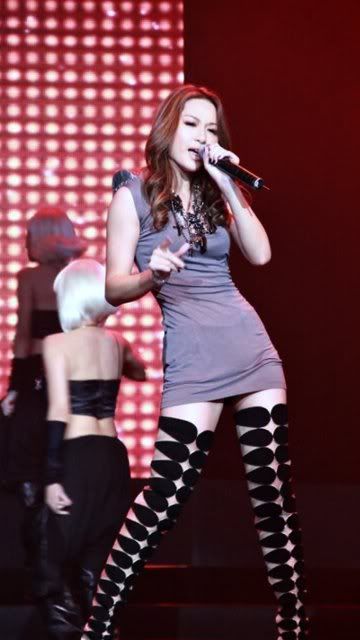 Sexylicious Kate...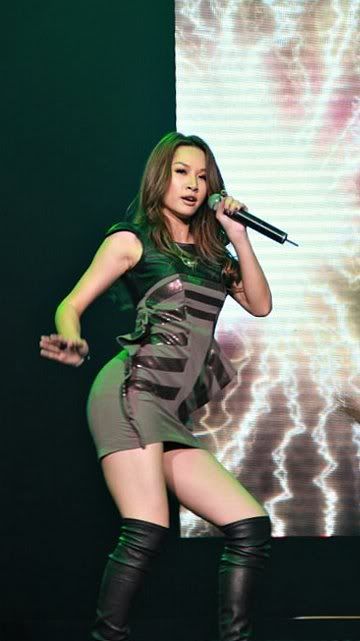 ...without a doubt.
The cute Myolie Wu blew us away with her moving rendition of Whitney Houston's "I Will Always Love You", hitting the high notes and drew thunderous applause from the audience. "This year I was busy filming two dramas and therefore have no time to record my album but hopefully I will be able to come out with my new album next year" Myolie shared. While she was singing, some fans shouted "Bosco" (name of her rumoured boy friend) and she candidly replied with a smile "Oh, he did not come". Some of her fans went on stage to present her with bouquet of flowers and teddy bears. She took the opportunity to thank her fans "I would like to thank my fans who came all the way from Hong Kong. They were at the airport last night to send me off and now they are here tonight. I am very grateful for all their support".
Harajuku styled Myolie Wu stirring the audience with her excellent vocals.
The last solo segment was non other than the cool and macho Ron Ng who told us that he has been here many times "I have very good memory to take home with me every time, especially the screams, applause and whenever you shout my name". Ron performed three songs which included the popular theme song "Red Butterfly", from the TV series "Rosy Business".
Ron Ng has made Malaysia a common feature in his busy schedule.
All five of them also took the opportunity to promote themselves for the upcoming TVB Anniversary Awards show next month. This is an annual awards ceremony that celebrates the best in TVB programming and it's Hong Kong's equivalent to the Emmy Awards.
Just before the concert ended for the encore session, both Michael and Kate took to the stage for an impressive dance battle sequence to the songs " Yeah" (Usher), "Like I Love You" (Justin Bieber) and "Toxic" (Britney Spears). The five came back for the encore session and performed three more songs before calling it a night.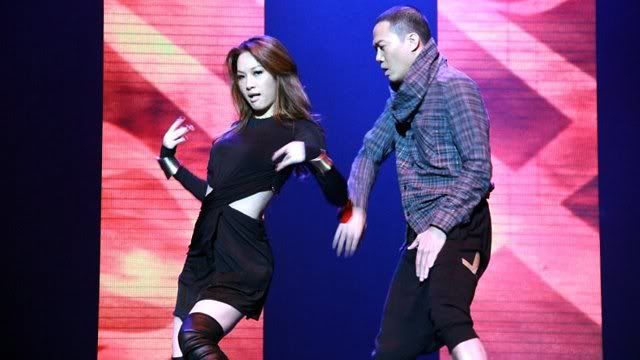 Battle of the sexes.
"Be Charmed Live in Malaysia 2011" was brought to you by Jazzy Group
www.jazzygroup.com/