Post by uptowndragon on Sept 4, 2011 20:44:25 GMT 7
Miriam Yeung "Ladies & Gentlemen World Tour" Live In Concert @ Arena Of Stars, Genting Highlands (3/9/11)YEUNG IN TRANSITIONStory:
Dragon & Anastasia
Photos:
Dragon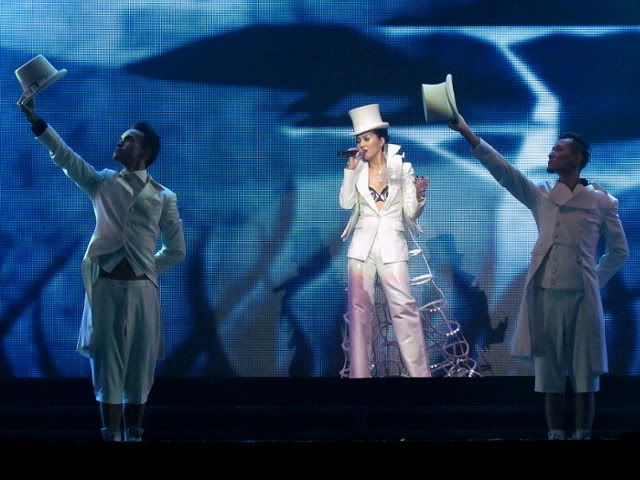 A near capacity crowd filled Genting's Arena of Stars last night to catch Hong Kong singer and actress Miriam Yeung, at her second Malaysian solo concert, that was made possible by local concert heavweights Galaxy Group. Hugely popular but really not noted as one of the majors in the international Chinese music scene, the Cantonese pop star still had a fair share of diehard fans rooting her along throughout her one hour and fourty five minutes concert that had her showcasing 25 songs, and a couple of impromptu ones as well.
A former registered nurse, Yeung, launched her career in the entertainment industry after taking third at the TVB 14th Annual New Talent Singing Awards, in 1995, progressing well both in music and in film, during the late nineties & early noughties. Yeung won numerous awards along the way, including the prestigious Jade Solid Gold Asia's Most Popular Female Artiste in 2010, and more recently winning Best Actress at the 17th Hong Kong Film Critics Society Awards in 2011. With 18 studio albums and 7 live ones, she is currently recognised as one of the top four Cantopop female singers (alongside Denise Ho, Kay Tse & Joey Yung), although she does sing in Mandarin as well.
Appearing on stage in a bondage styled outfit made up of a shiny silver, copper and black patterned bustier top, complimented by a mini black flared skirt and tights, wrist straps and a feathered headpiece, the lithsome Yeung opened with the mid paced "Wedding Rock", accompanied by dancers in sharp suits, which immediately received roars of approval by her fans. The highly choreographed cabaret styled dance routine had Yeung gyrating along, albeit slightly awkwardly, while incorporating tango poses, half leaps and low lifts.
Concluding the three song opening sequence, Yeung's dancers proceeded to demonstrate their individual popping and breaking skills under spotlight, as she dove off stage for a quick change. Yeung emerged soon after in an elegant greenish gold satin off shoulder gown, to serenade her fans with a series of ballads, cementing the fact that Yeung is still a true blue balladeer at heart, despite trying hard to impress with youthfully mid and fast paced numbers, throughout her concert, which, could be labelled neither dull nor exhilarating. At 37, Yeung seems to be at the crossroads of her musical career. Neither considered old nor young, the transitioning Yeung who was once recognised as Hong Kong's Tep Ten Outstanding Youth, came across trying too hard to being both. There is no denying that Yeung is a reasonably accomplished vocalist, and her strengths certainly lie in her emotional ballads. Its in her racier numbers that she stutters and begins to look slightly dated, although her performance is not lacking of vigour and enthusiasm.
Full story and complete pics coming up.