Post by uptowndragon on Jul 2, 2011 11:45:23 GMT 7
DUO: Eason Chan Live In M'sia Press Conference @ Hilton KL (29/6/11)DUAL CORE CANTOPOP GIANT BACK FOR THE FOURTH TIME BY POPULAR DEMANDStory & Photos:
Anastasia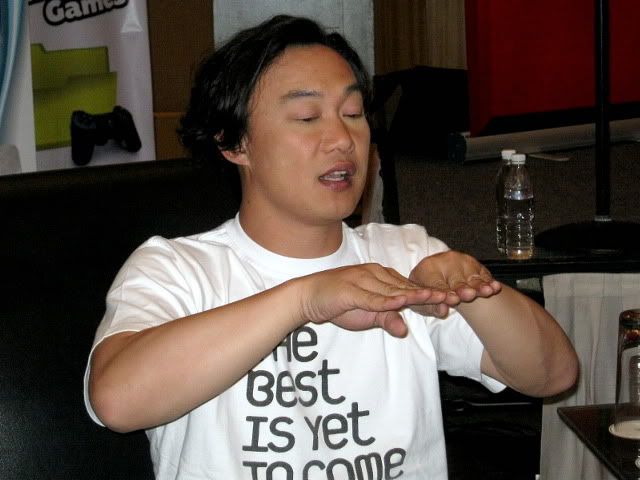 Two Easons at the price of one at the DUO concert
Malaysian fans will once again get to watch Hong Kong's third "god of song" when he returns to Kuala Lumpur with his latest DUO Eason Chan Live In Malaysia 2011 concert, which will be held at Stadium Merdeka on 6th August 2011. This was revealed at a press conference held by premier concert organisers Galaxy Group and co-presenters Tune Talk & Malaysian E-Government concessionaire MyEG Services at the Hilton Hotel in Kuala Lumpur, last Wednesday afternoon, with the multi award winning Cantopop superstar himself in attendance.
The bubbly and animated 37 year old Eason, who arrived in the city to officially launch his fourth KL date and meet his fans, is on his biggest-scale concert tour that had already sold out 18 shows at the Hong Kong Coliseum between March & April last year, breaking his own personal record. The critically acclaimed Eason who is also a producer and actor, is one of the top selling Chinese artiste of the last decade with millions of albums sold worldwide, will be giving it his all at the DUO concert and will see him perform various sets of songs with a similar set of motif chosen from his own repertoire. The theme "DUO" which originates from the Latin word "dual", carries the meaning duet in musical terms, or is used when two co-relating people or things are described, and as such two distinct characteristics will be reflected through his songs, the stage, set design, costumes & make up, in accordance with the concept of the concert series. The larger than life big top style party has been enthralling audiences around the world and Malaysians will expect no less of the same thrill ride.
During the question and answer session, Eason shared that he is addicted to music, which according to him is better than being addicted to cigarettes or any other substances. He was a heavy smoker during his younger days, as he had the silly notion that it will make his voice as raspy as Bruce Springsteen. He eventually quit to save his voice and also for the sake of Constance, his seven year old daughter. He also commented that he loved coming here, but would need to redesign his costumes to make them more comfortable and bearable in our heat.
Apart from his sensational singing, Eason also had the opportunity to voice Po, the Dragon Warrior, in the Cantonese version of the animated feature Kung Fu Panda.
Tickets for the upcoming concert are priced at RM488, RM388, RM288 (all numbered), and RM118 (free standing) are already selling fast, with more than 50% of the tickets already snapped up within 15 days during the internal booking period. His previous three concerts (2006, 2008 and 2009) in Malaysia have been sold out affairs, and as such fans are urged to make their purchases early to avoid any disappointment. Tickets will be available online from
www.galaxy.com.my
, from Galaxy Ticket Counter at Sungei Wang Plaza and the Galaxy Office in Mid Valley, and fans will enjoy a 20% discount on all tickets until 2nd July 2011.
During his speech, Tune Talk's CEO Jason Lo said "Tune Talk brings Eason Chan to you by popular demand. We take pleasure in fulfiling the Cantopop fans wishes to see their favourite Chinese international acts here. As the country's fastest growing prepaid mobile service provider and one with a difference, we are here to cater to all walks of life. We pay attention to our Chinese subscribers and therefore this would be our gift to you."
Adding to that gift, will be a 20% discount on the ticket price for all Tune Talk subscribers, throughout.
Apart from Jason, the press conference was also attended by MyEG's Senior Manager K.K. Chin, platinum sponsors Munchy's Marketing GM, Edward Chen and Galaxy's Senior Marketing Manager, Bonor Seen, who received mementos from Eason Chen as tokens of his appreciation for making the concert possible.
More information on the concert can be found here:
1in1m.proboards.com/index.cgi?board=eag&action=display&thread=5242
More pics coming up.