Post by idolfan on Feb 3, 2010 13:29:26 GMT 7
Ron Ng Cheuk Hei @ Dragonfly KL Dance Club (31/1/10)HK HEARTTHROB RON FIRES UP FANS AT DRAGONFLYStory:
Wendy Wong
Photos:
Frankie Pek
Ron with his old school hunky looks would fit in nicely in an early 20th century film.
Hong Kong heartthrob Ron Ng Cheuk Hei was recently in town at the invitation of KL's newest Chinese entertainment outlet Dragonfly, to present a mini showcase for their guests, as part of Dragonfly's ongoing promotional activities. Ron Ng is a well known Hong Kong TVB actor, singer, ambassador, professional dancer as well as a successful model and has appeared in several popular TVB drama series' such as "Triumph In The Skies", "Twin Of Brothers", "The Academy", "War & Destiny" and "The Brink Of Law".
His musical journey kicked off when he signed a contract with BMA Music Records in 2005 which released his first EP, "The Fast Pass". Ron's debut album, "Fast Forward" was released in January 2006 and allowed him to garner several Hong Kong Music awards, including the Best Newcomer Award and Top 10 Hits Award.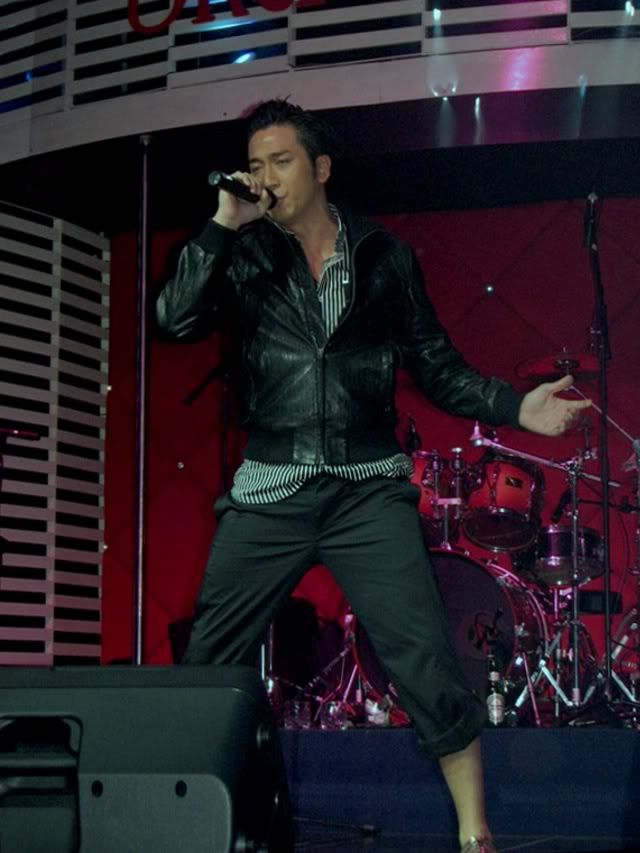 We like the Happy Days' Fonzie look but was it flooding at the venue?
At his mini showcase at Dragonfly, the handsome Ron Ng who was decked out in a smart leather jacket, addressed the thronging crowd, "My Malaysian friends, how are you?" and wished everyone Happy New Year, before singing four songs altogether, which included 2 fast and 2 slow numbers. During the showcase Ron mentioned that he was feeling a little hot which lead the crowd to shout for him to take his clothes off. This lead him to quip jokingly that his surname is "Ng" not "Chui Sam" (meaning take off clothes). Ron also did some interesting dance moves with his fast numbers to the delight of the crowd.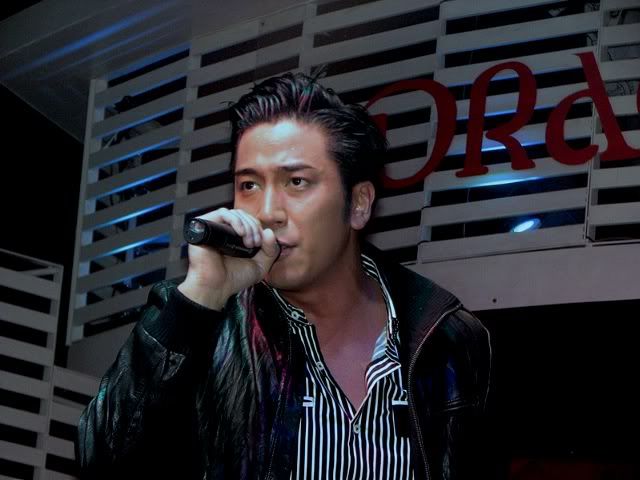 Is Ron set to be the new face of Code 10 or Brylcream?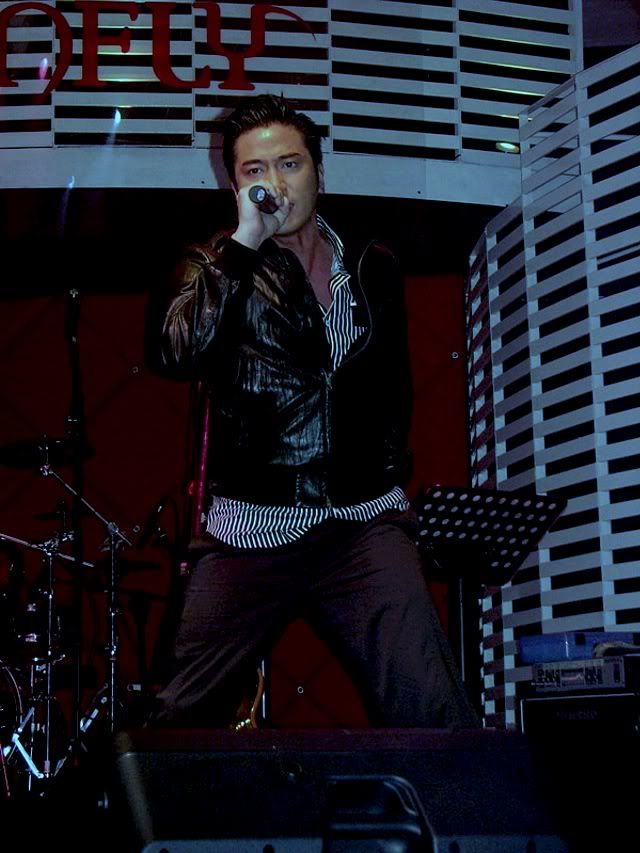 Grease lightning?
The rising heat eventually had the unaccustomed Ron sweating halfway through his performance. A girl from the crowd gave him a tissue which made him say that Malaysian girls are very caring. He did finally take off his jacket which got the crowd all very excited.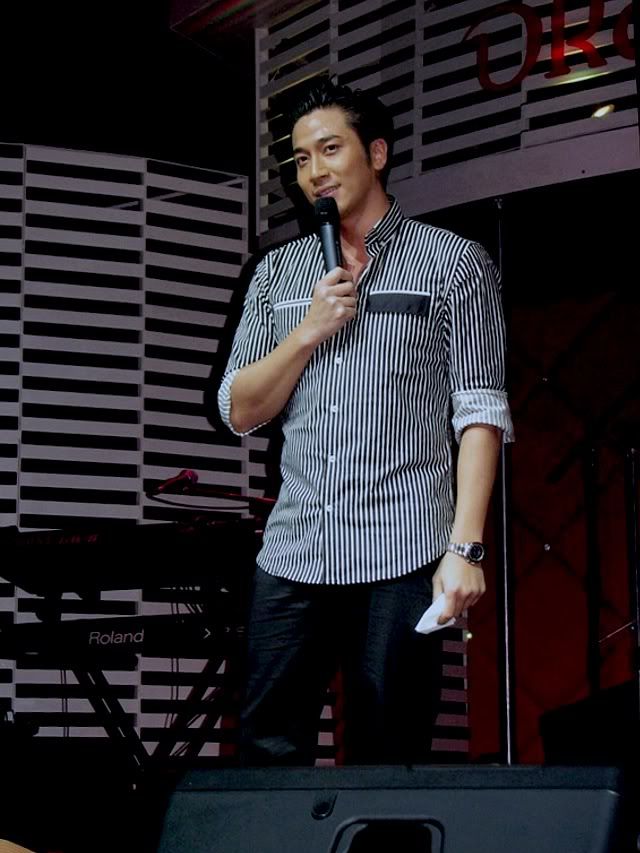 "Thank you for the tissue!", exclaims Ron now sporting a HK banker's look.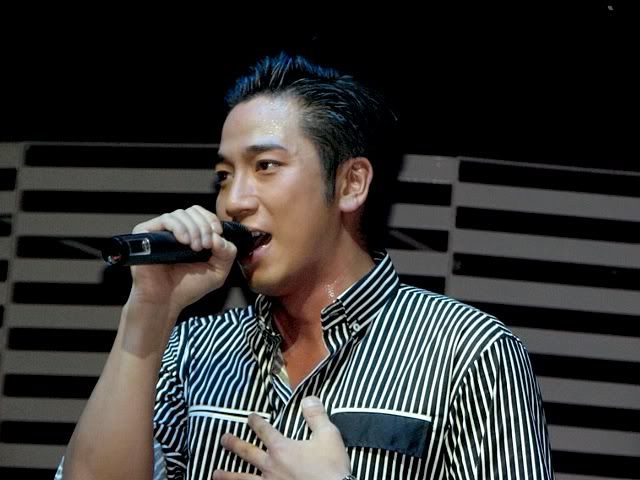 Ron getting intimate with his audience.
Although the showcase was a little short (understandably it is rather expensive to have HK stars here), it was still very exciting & enjoyable. Kudos for Dragonfly, for bringing such a stirring star down to KL. We are certain that those who attended were definitely quite pleased to have been in such an intimate session with him.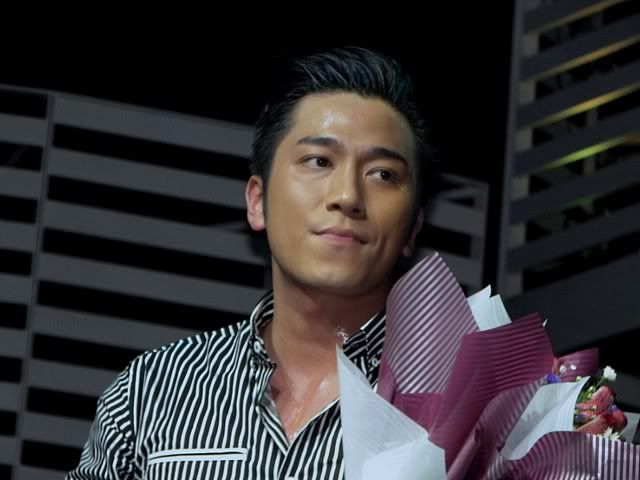 What's with all these stripes; striped shirt, striped bouquet wrapper and striped background wall.
Prior to Ron's performance, patrons were entertained with popular Chinese & English numbers by Dragonfly's 7 member resident rock band Crossfire, who perform at the venue, 7 days a week from 9:00 pm onwards.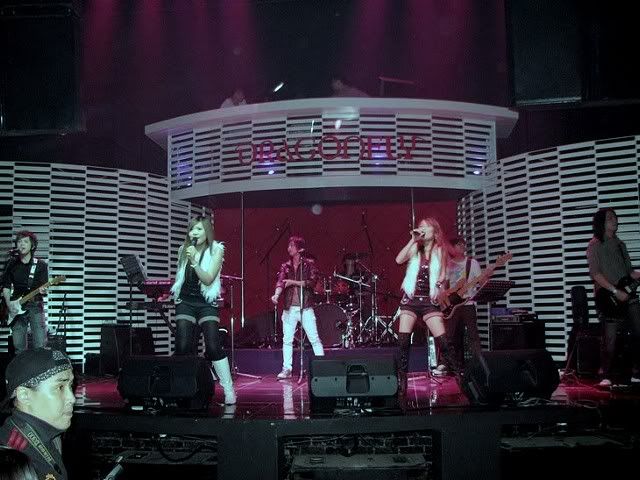 Resident band Crossfire was a treat to watch.
The next artiste Dragonfly has lined up to perform at its venue is Chilam Cheung who will make his appearance on 3rd February 2010. Also lined up is Sandra Ng and some of the gang from the movie "All's Well, Ends Well" who will be making their appearance on 8th Feb 2010. Please do make a date with Dragonfly and immerse yourself with a brand new experience of clubbing with something extra.
Dragon fly is located at 1, Jalan Kia Peng, Kuala Lumpur and can be reached on 1 700 80 2999 or via email at
dragonfly.kualalumpur@gmail.com