Post by uptowndragon on Dec 23, 2013 0:50:12 GMT 7
Letter From Nate and Before Shane Went to Bangkok: FUN. LIVE In The USA (Free EP Download)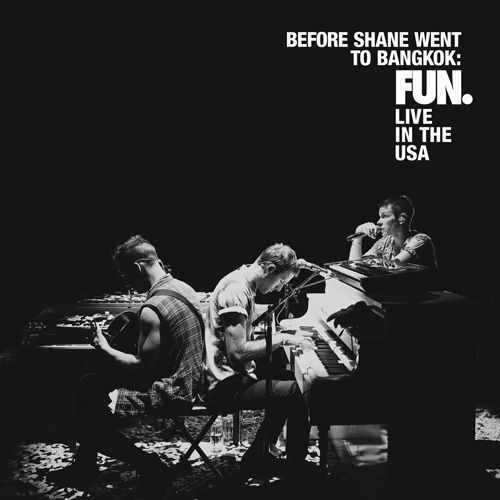 "Two years. I'm sitting here on my couch - watching football - Andrew should be here any minute with a pizza - and I've been asked to say a little something about the last two years. To be honest, I thought I'd be ecstatic to get home from two years of touring. What was supposed to be just another album and touring cycle, turned into the craziest two years any of us have ever had. If I were to be asked the very unoriginal question of "what was the highlight of it all so far?", and had to answer it honestly - I would have to say the unwavering support and energy that you guys provided at all of our shows. After all, we never thought any of this would happen...all we ever wanted (at the time) was to continue to play the wild and crazy shows that we had grown so accustomed to at the incarnation of this group. We just thought we would pick up some more fans along the way. Trust me, I will take what its all become...but at the very core of it, it's a bunch of hard working people spending their hard earned money, dancing and singing along while we have the time of our lives. It's an incredible thing. And while it can feel and seem so natural for us being on stage (trust me - you should have seen us backstage before we played in front of our first group of 3,000), I don't think we could have done it if it wasn't for those original fun. fans, coming to their second or third or fourth concert of ours, and embracing the new people that have come along the way. I've always been so proud of the people that come to our shows...it's an eclectic group, free to be whomever they want, just so long as they sing...loud...and it never felt like anyone had to play "catch up" on how it is at the shows.

So while I'm STILL waiting for Andrew to appear, and I'm enjoying the occasional day off (I can sing again!)...I'd prefer he showed up in a van with Jack, Nattie, Emily, and Will. Cause I'm already starting to get that itch. I miss you guys. And you mean the world to us.

So take this free batch of live songs from the last tour, and try to remember what a great time we had. Enjoy WTF...its nice to see it finally catch an official light of day. And rest up. Cause we will be back in your city before you know it.
All the Love In the World,

- Nate"
Track Listing:
1.) Out On the Town (Live)
2.) Barlights (Live)
3.) Carry On (Live)
4.) What The f**k (Live)
5.) The Gambler (Live)
6.) Some Nights (Live)
Click the link below to download the EP for free.
clicks.fanbridge.com/l.php?cid=1051102&sid=175332180&url=http%3A%2F%2Fbit.ly%2FFunBangkokEP
Before Shane Went To Bangkok: FUN. Live in The USA is going to be released on vinyl in 2014 and you can pre-order you copy now.
store.ournameisfun.com/store/show/TDZPJ?cmpid=131216%2Ffun%2Ffbr%2Fscl%2Femail%2Fs_pr%2Ftxt%2Fus%2Flive_vinyl_release
The first pressing of The Before Shane Went to Bangkok: FUN. LIVE In The USA will be limited to 1,000 numbered copies on black vinyl featuring six songs recorded on the Most Nights Summer Tour and include a selection of 4x6" photos taken by Daniel Silbert during the tour. This 12" vinyl is currently being sold as a PREORDER item. You will be charged at the time of purchase but all orders containing this vinyl will not begin shipping until on or before Tuesday, March 4th. For faster delivery, please choose the Priority Mail or 2nd Day shipping options. If you wish to purchase other items besides this vinyl and want these items shipped right away, you must place two separate orders. Please keep in mind that international orders may take up to a month to arrive after being shipped.
The first 100 copies sold via the Fueled By Ramen web store will include a signed Daniel Silbert print:
store.ournameisfun.com/store/show/TDZPJ
P.S. You can download the EP for free on Noisetrade if the download link above is running slow or not working.
www.noisetrade.com/fun/before-shane-went-to-bangkok-fun
www.ournameisfun.com
www.theallycoalition.org
store.ournameisfun.com
www.facebook.com/ournameisfun
www.twitter.com/ournameisfun