Post by anastasia on Jan 22, 2017 11:00:52 GMT 7
Vision @ KL Live, Life Centre, Jalan Sultan Ismail, Kuala Lumpur (3/2/17)When:
8.00pm, Friday, 3rd February, 2017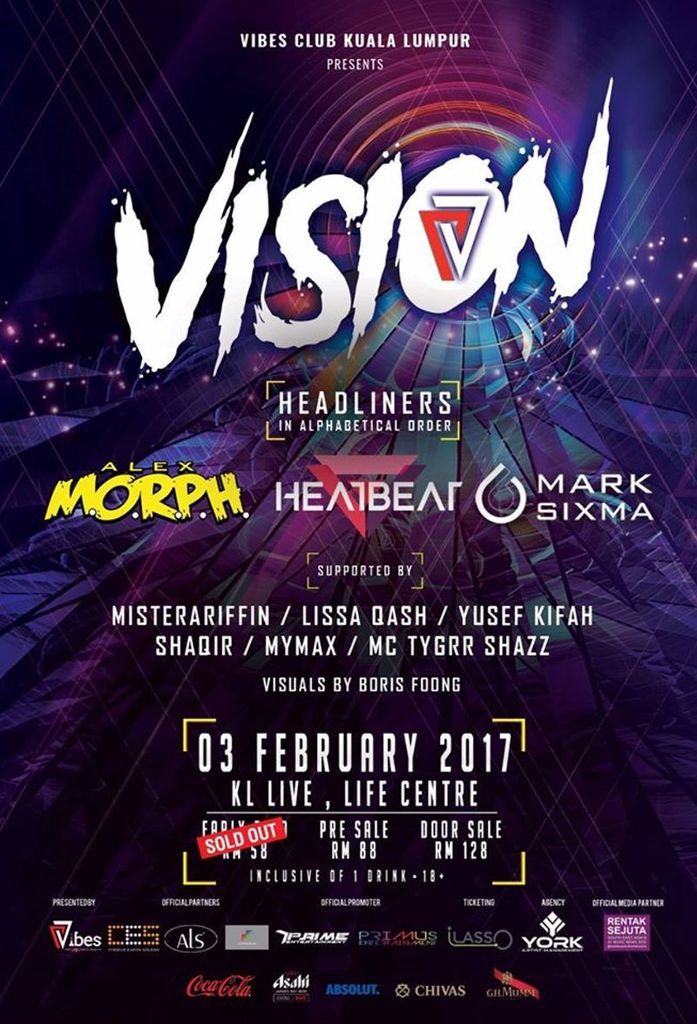 Calling all passionate dance music lovers! Switch your party mode-on and get ready for the ultimate electronic dance music extravaganza, in Kuala Lumpur on 3 February 2017. Vibes Club, KL presents "VISION BY VIBES CLUB", a large-scale dance party comes in the full-flavour of both local and international headliners with state-of-the-art audio and visual production by CES Creative Events Solution Sdn Bhd.
Proudly organised by Vibes Club, KL, this electronic dance music event will be held at KL Live, Kuala Lumpur with the first act to start at 8pm. VISION BY VIBES CLUB features local favourites like MisterAriffin, Lissa Qash, Shaqir, Mymax, Yusef Kifah, and MC Tygrr Shazz to compliment the very special appearances of Alex M.O.R.P.H., Heatbeat and Mark Sixma respectively. VISION BY VIBES CLUB acts as a catalyst of pushing the standards of the local entertainment industry onto a new height and defines its long-term commitment as a home-grown product to be recognized worldwide.
Azizi Rahman, Operations Director of Vibes Club, KL explains, "The establishment of VISION BY VIBES CLUB can be viewed as the first step in delivering the ultimate dance music experience held out of its own outlet Vibes Club, KL in TREC. Envisioned as a new brand that will not only set itself apart from other established dance music festivals but also to elevate the experience one would expect in a music festival, there are already plans in motion to provide a huge variety of different dance music festivals catering to audiences and music lovers from all types of genres at other larger venues locally and regionally. In partnership with CES Creative Events Solution Sdn Bhd, a multiple award-winning in event production, PRIME Entertainment, and Primus Entertainment, we will reign as the best in this category in Malaysia's dance music scene."
Headliners:Alex M.O.R.P.H.
About Alex M.O.R.P.H.
It takes a strong heart and inventive mind to live on the very top of the electronic dance scene – especially if your career spans nearly two decades. Luckily, German producer and DJ Alex M.O.R.P.H. holds both of these, along with a lively spirit that seems to feed on music. His ways with melody are widely known and loved, the M.O.R.P.H. sound a phenomenon that grabs the audience time and again, and the constant drive to reinvent himself is a mere reflection of his ability to stay ahead of the game. Backed up by a long list of highlights, yet ever looking out for the future, Alex M.O.R.P.H. is one of the rare characters to add color to the scene. And he's not nearly done bringing the world his musical portrait.
The M.O.R.P.H. sound
Through each of the Alex M.O.R.P.H. originals, he tells a story. In a unique blend of energy, emotion and power, he connects music with feeling. And it is felt. With over 60 originals on his discography, including the mass-movers of 'An Angel's Love', 'Sunset Boulevard', A State of Trance 2014 Tune of the Year runner-up 'The Reason', 'Eternal Flame' and 'Walk The Edge', it's clear that Alex is way past the rookie stage. Looking back on two successful artist albums, the 2009 'Purple Audio' and 2013 'Prime Mover' albums, the 'Hands On Armada – Part 2' remix compilation, as well as collaborations with Armin van Buuren, Paul van Dyk, Rank1 and of course lifelong studio partner Woody van Eyden, it's really the challenge in production itself that inspires Alex to push his boundaries. With a brand new artist album coming up in the summer of 2015, inspiration continues to thrive in the M.O.R.P.H. studio and fans barely need to bide their time to enjoy new originals.
Each of his remixes, whether for Dash Berlin, Armin van Buuren, Faithless, Ayumi Hamasaki, Aly & Fila, Within Temptation or any other of the more than 120 remixes he's done, displays his ability to create a different angle to a track and give it that Alex M.O.R.P.H. spin. A spin that is not only loved, appraised and welcomed by the industry's key players, but also continuously surprises fans of the charismatic producer. His remixes are known to capture the imagination, as melody combines melancholy and banging beats melt together with warmth, creating an endless dance of elements.
The M.O.R.P.H. experience
In his ongoing upward trajectory, Alex has seen a staggering amount of packed clubs, main stage decks and extraordinary events – featuring no one less than the man himself. From the legendary Trance Energy and A State of Trance events to Cream Ibiza, Mayday, Nature One, Soundtropolis, Stadium of Sound, Electronic Family and Ultra Music Festival, the list goes on and on. Legendary clubs and venues like Godskitchen, Monday Bar, Ushuaia Ibiza, Mandarine, Space Miami and most definitely the massive Madison Square Garden in New York, have witnessed some of Alex M.O.R.P.H.'s personal favorite sets and highlight moments in his career.
After more than 11 years as the co-founder of the treasured HeavensGate events – with clubnights and festival events happening everywhere from Ibiza and Germany to Malaysia, South Korea and UK - and 450 episodes as the co-host of the critically acclaimed HeavensGate radio show, 2015 has a new concept in store for Alex. On April 6th, he kicks off his spanking new Universal Nation show and podcast, a weekly gathering to unite his fans as one and showcase exclusives, talents and must-hear tracks. Universal Nation marks another challenge in Alex' comprehensive career as a fully-fledged artist, and lets listeners from all over the world experience what the man and his music are all about.
With Alex having embarked on some very exciting adventures in 2015, like kicking off the Universal Nation radio show, it's going to be one hell of a year for electronic dance music in 2016, including the launch of his own label "Universal Nation" and the release of his third artist album in the summer. Bringing the scene some extraordinary and daring originals and collabs, while rocking the stage, Alex M.O.R.P.H. lets the music speak for itself. You're more than welcome to follow him on his trail, as he heads out for musical synergy.
www.alexmorph.com/
twitter.com/alexmorph
www.facebook.com/alexmorph/
Heatbeat
About Heatbeat
Just five short years ago, a DJ/Producer duo named Heatbeat was born out of the ranks of Argentina.
But, within such a short time of coming together, the world wouldn't be ready for the shockwaves created by the pair's cutting-edge productions and fresh, live DJ performances. Their versatility spans to include both their newest tracks as well as mash-ups and bootlegs of current hits, which they concoct in their studio during extensive, pre-set preparation. Backed by long-standing experience with traditional instruments like the piano, guitar and drums, today, their résumé of international acclaim and support is longer than most would care to read. One would only need to look in the proverbial record bins of the world's top DJs to find their "big-room" tracks waiting for the next packed venue, like the hunter waiting to spring on his prey. DJs like Paul van Dyk, Armin van Buuren, Tiesto, Markus Schulz, and Ferry Corsten, among many others, are no strangers to playing Heatbeat's tunes day in and day out. Now, these young-bloods from Buenos Aires, Agustin Servente being only 25, and Matias Faint, 26, have set their fervent sights to only one .. Greatness. "[They] bring together influences from various genres in the form of a very explosive cocktail mix." Working on Armin van buuren's label "Armada" , Heatbeat are one of the most based trance duos in the scene. With their records receiving tremendous support from the largest names and labels in electronic music, and a world- wide, debut tour on the brink, these young guys are on track to being the next big thing out of the southern hemisphere. Already Playing in the hottest places in the world such as Ibiza, Miami, Moscow, Los Angeles, Buenos Aires, Brazil, Northen Ireland, El Salvador, Peru to name a few. So, if staying ahead of the curve is part of your game, keep a steady eye on Heatbeat. Argentina.
www.heatbeatmusic.net/
twitter.com/heatbeatmusic
www.facebook.com/Heatbeat/
Mark Sixma
About Mark Sixma
Mark Sixma inevitably caught the dance music bug growing up in now-famous Breda, the Dutch city that produced Tiësto, Hardwell, and more. After mastering the art of DJing in his teenage years, Mark decided to try his hand at making his own music to play live.
One of his first releases, 'Destination 6', received 'Tune of the Week' status on Armin van Buuren's radio show, A State Of Trance, and was supported by some of the biggest names on the planet. The next single led to Mark signing with Armada Music. Fade 2 Black was, once again, selected as Tune of the Week on ASOT, truly cementing Mark as one to watch within the world of trance.
Armin van Buuren then selected Mark's tracks for his annual, platinum-selling A State Of Trance compilation three years in a row. In addition to the compilations, Armin also featured one of Mark's tunes on his Wii Game and gave him the opportunity to remix 'Minack', the massive collaboration with Ferry Corsten.
Since then Mark has gone on to release on some of the biggest labels in dance music, including but not limited to: Armada, Revealed, and Blackhole Recordings. Also on his list of achievements is the mix compilation 'Worldwide Trance Sounds Vol. 6' on Armada Music.
Mark Sixma has toured extensively, with big performances across the globe alongside top DJs like Armin van Buuren, Ferry Corsten, Gareth Emery, Judge Jules, Markus Schulz, Paul van Dyk, Sander van Doorn and W&W. Mark has performed at several festivals including Stereosonic, A State of Trance 550 & 650, Nature One (two times) as well as Electronic Family, Escapade Music Festival, and Ultra Music Festival Miami in 2015. He also played alongside Armin van Buuren for the official closing party of the legendary Guverment in Toronto.
In 2013 Mark Sixma made his debut on W&W's fast-rising label 'Mainstage Music' with his epic smash 'Requiem'. This fought off competition to hit the Beatport Trance Chart at #1, beating the likes of world number one DJ and producer Armin van Buuren, whilst also holding the #1 slot on major digital download sites Audiojelly and Trackitdown, achieving a unique hat-trick of chart-topping positions!
His tune 'Requiem' was the most played trance track of 2013, and he had scored six top 10 Beatport records for his original tracks 'Character', 'Refused', and 'The Saga', and his remixes of Orjan Nilsen ('Mafioso'), Cosmic Gate ('Crushed'), and Jorn van Deynhoven ('New Horizon') up to this point.
2014 was a breakout year for Sixma, who released an updated version of the iconic 'Adagio For Strings', 'Shadow' (W&W Edit), remixed Cosmic Gate and Armin van Buuren ('Save My Night'), and released on both Armada Music and Revealed Recordings. While 'Adagio' held the #1 spot on Beatport, Sixma got to kick himself out of the charts with his next record, as his remix of 'Falling Back' supplanted 'Adagio' to claim the #1 position in the charts from himself — a feat very few have accomplished.
Mark Sixma's first North American Tour took place in 2015, following his top-level releases and remixes from the previous year. After seeing heavy support from Armin van Buuren, the two finally collaborated on 'Panta Rhei', a major accomplishment for Sixma that would lock in his place in the the dance music elite. As Mark Sixma shifts gears, he heads into the future with more ammunition than ever, and he's poised to dominate the industry that he's shook since the very beginning of his career.
www.marksixma.com/
twitter.com/marksixma
www.facebook.com/marksixmaofficial/
Local Acts:
MisterAriffin
Lissa Qash
Shaqir
Mymax
Yusef Kifah
MC Tygrr Shazz
Production By:
Creative Events Solution (C.E.S) and visual by Boris Foong
Schedule: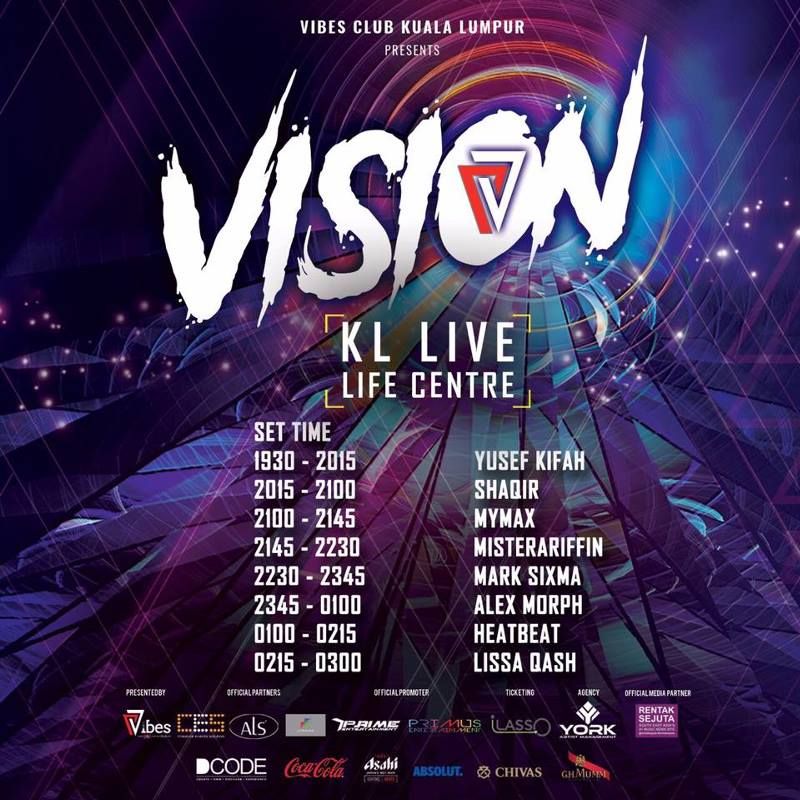 Ticketing Information:Ticket Prices:
Pre Sale: RM 88.00
Door: RM 128.00
VIP Standing Table – RM 800 (one bottle / 4 pax entry / choice of Mumm Champagne, Absolute or Chivas)
VIP Standing Table – RM 1,500 (two bottles / 8 pax entry / choice of Mumm Champagne, Absolute or Chivas)
VVIP Sofa – RM 3,000 (four bottles / 12 pax entry / choice of Mumm Champagne, Absolute or Chivas)
Cabana – For the highest bidder (minimum 12 bottles / 20 pax entry / choice of Mumm Champagne, Absolute or Chivas)
RSVP:
+60111 1742987 / +6012 6647703
Ticketing Hotline:
+603 21706333
Online Booking:
www.ilassotickets.com
For More Information:
Phone: +6013 2771149 / +6017 8791079 / +6013 2949018 & VIP/VVIP/Cabana +6012 6669351
TW:
twitter.com/PrimeKL
FB:
www.facebook.com/PrimeEvnts
Phone: +6012 6647703
FB:
www.facebook.com/vibesclubkl/