Post by anastasia on Oct 4, 2016 22:38:53 GMT 7
Konsert Wings 30 Tahun Live @ Stadium Likas, Kota Kinabalu, Sabah (24/12/16) POSTPONED
Konsert Wings 30 tahun Live@Kota Kinabalu Sabah Yang Dijadualkan Pada 24hb Disember 2016 Telah Ditunda Diatas Sebab Sebab Yang Tidak Dapat Dielakkan. Penganjur K4MI Mutiara Global Akan Mengumumkan Tarikh Baru Konsert Dalam Masa Yang Terdekat. Sila Hubungi Talian Hotline +6016 8839769 Untuk Keterangan Lanjut.
When: 8.30pm, Saturday, 24th December, 2016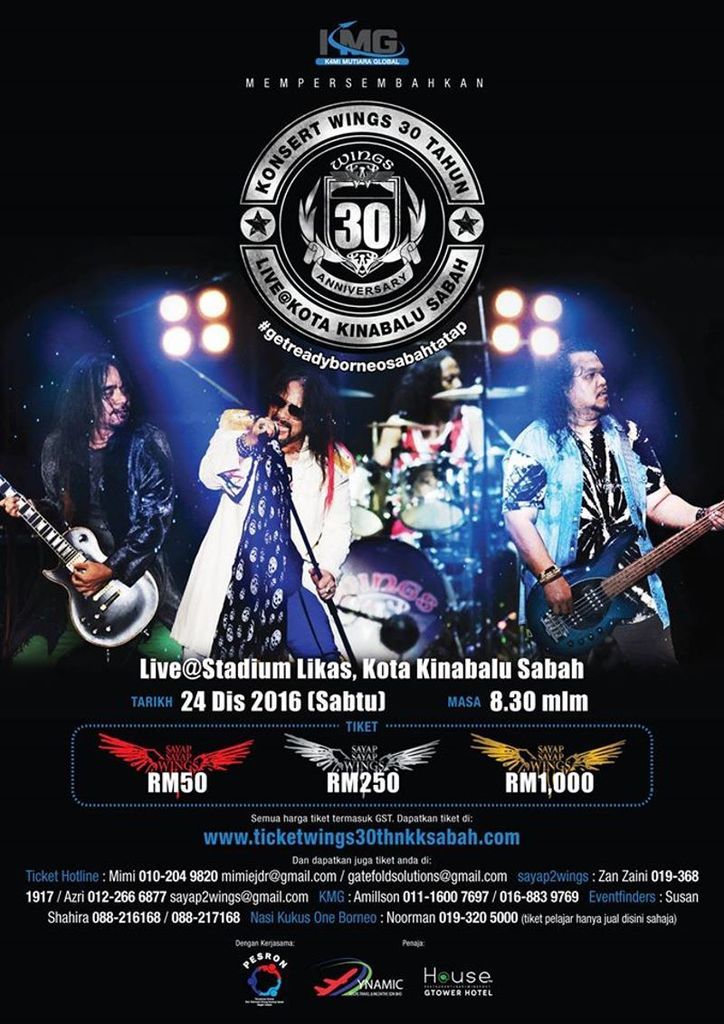 Konsert WINGS 30 Tahun Live @ Kota Kinabalu, Sabah yang bakal diadakan pada 24 Disember 2016 ini di Stadium Likas, Kota Kinabalu, Sabah adalah kesinambungan kepada konsert mereka yang mencatatkan kehadiran seramai hampir 25 ribu penonton pada 31 Oktober 2015 di Stadium Merdeka, Kuala Lumpur dan seramai hampir 8 ribu penonton pada 25 Disember 2015 di Padang B Plaza Angsana , Johor Bahru.
Setelah hampir 20 tahun tidak mengadakan persembahan berskala besar di bumi Borneo amnya dan Sabah khususnya, maka pada 24 Disember 2016 ini, K4MI MUTIARA GLOBAL (KMG) ingin membawakan Konsert Ulangtahun ke 30 Kumpulan Wings ke Sabah bagi menghiburkan para peminat dan meraikan ulangtahun yang ke 30 kumpulan Wings bersama peminat di sana.
Masih bertemakan 'Back To 80's' Wings akan mengekalkan format persembahan seperti di Kuala Lumpur dan Johor Bahru di mana konsert akan dimulakan dengan persembahan band-band 'indie' tempatan pada sebelah petang sebelum barisan artis jemputan seperti Felix Agus, kumpulan Zero, Abu Bakar Ellah, Yazer dan Aweera membuka tirai persembahan. Bekas ahli Wings yang d**enali dengan 'Ex-Wings' seperti Mel, Sham dan Jojet juga akan membuat kemunculan pada konsert ini dibantu oleh Akim dari kumpulan Akim & The Majistret.
Band Members
Awie
Joe
Eddie
Black
Wings Carnival Bike Week - Thursday - Saturday, 22 - 24th December, 2016 @ Perkarangan Stadium Likas, Kota Kinabalu, Sabah
Ticketing Information:Tickets prices:
RM 35.00, RM 50.00, RM 250.00 & RM 1,000.00
RM 35.00 Untuk pelajar, dikhaskan untuk mereka
RM 50.00 yang d**enali sebagai Sayap2
RM 250.00 yang d**enali sebagai Sayap2 Silver
RM 1000.00 yang d**enali sebagai Sayap2 Gold
Online Booking:
www.tiketwings30thnkksabah.com/
Tiket Sayap2 adalah tiket normal dan pemegang tiket boleh memilih untuk duduk di kerusi stadium atau berdiri di tengah padang ketika hari konsert berlangsung. Link pembelian untuk tiket Sayap2.
www.billplz.com/TIKETSAYAP2WINGSRM50
Tiket Sayap2 Silver adalah tiket eksklusif dan kelebihan bagi pemegang tiket ini adalah mereka akan mendapat sehelai t-shirt konsert Wings 30 Tahun KK dan tempat duduk berbumbung di Grandstand ketika konsert. Bagi pembeli tiket Sayap2 Silver Early Bird pula, mereka akan mendapat jemputan menghadiri Sidang Media Konsert Wings 30 Live @ Kota Kinabalu, Sabah serta menyaksikan 'showcase' istimewa Tribute To Wings dari kumpulan-kumpulan tempatan yang akan berlangsung di Bed Club @ Waterfront, Kota Kinabalu pada 14 November 2016 dan akan mendapat sehelai t-shirt 'Special Design' Konsert Wings 30 Tahun Sabah. Link pembelian untuk tiket Sayap2 Silver:
www.billplz.com/TIKETSILVERRM250
Tiket Sayap2 Gold pula adalah tiket 'VIP' di mana pembeli tiket ini akan mendapat seheli t-shirt berkolar Konsert Wings 30 Tahun Sabah dan menghadiri after party dan sesi 'Meet & Greet' bersama Wings selepas konser berlangsung di lokasi yang akan diumumkan kelak. Pemegang tiket Sayap2 Gold juga akan mendapat tempat duduk berbumbung di Grandstand ketika konsert. Link pembelian untuk tiket Sayap2 Gold:
www.billplz.com/TIKETGOLDRM1000
Layout:
For More Information:
Phone: +6019 3681917 (Zaini)
Email:
sayap2wings@gmail.com
URL:
www.sayap2wings.com/
TW:
twitter.com/sayap2wings
FB:
www.facebook.com/wings30tahun?ref=ts&fref=ts
/
www.facebook.com/sayap2wings/?fref=ts